Aichi To Declare Its Own State Of Emergency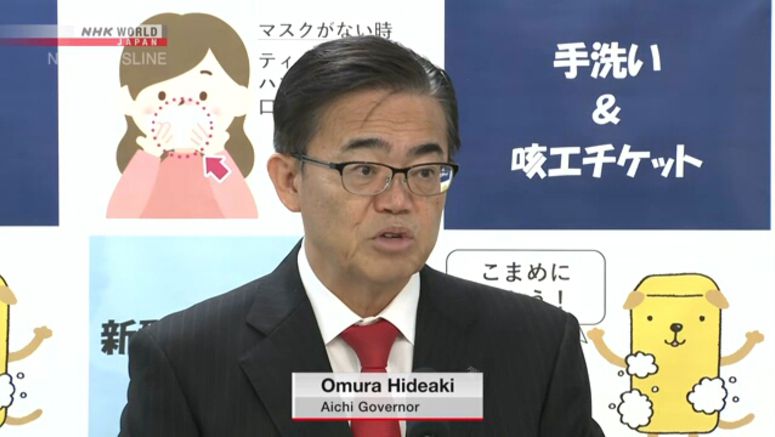 The governor of Aichi Prefecture in central Japan says he will declare a state of emergency on Friday due to the continuing increase in coronavirus infections there.
Aichi currently has the fifth-largest number of coronavirus cases among Japan's 47 prefectures. But Prime Minister Abe Shinzo did not include the region in Tuesday's emergency declaration.
Speaking to reporters on Thursday, Aichi Governor Omura Hideaki said he has asked the central government to include his prefecture to be covered by a revised law related to the new coronavirus.
Omura said he will first independently issue a prefectural order on Friday afternoon.
Under the declaration, Aichi residents will have to refrain from non-essential outings, on top of the existing request not to visit Tokyo and the six other prefectures in Abe's declaration.
Omura said the new measure will be in place until May 6 and that he wants schools to stay closed until then, scrapping a plan to reopen them on April 20.
His request will be sent to the prefecture's public senior high schools and special needs schools.
Omura also said he'll ask cities and villages to close their elementary and junior high schools on the same schedule.
On the other hand, the governor said he will not ask for a blanket closure of kindergartens and child daycare facilities. He said these places should stay open depending on their situations.
The central government explained on Tuesday that Aichi was seeing a slower rise in confirmed infections, as well as a smaller percentage of untraceable cases, than Tokyo and other areas of concern.