Bach Stresses Safety For Tokyo Games Spectators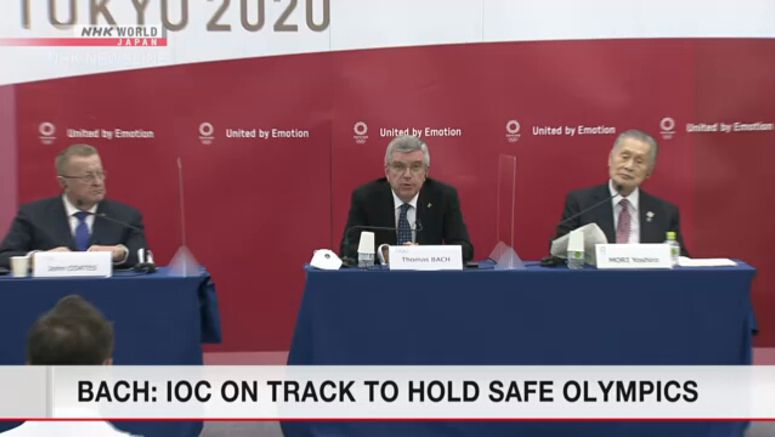 International Olympic Committee President Thomas Bach has expressed confidence that the Tokyo Olympics and Paralympics will be held successfully next year and also emphasized that safety for spectators is a top priority.
Bach held a joint news conference in Tokyo with the president of the Tokyo Organising Committee, Mori Yoshiro, on Monday. He earlier met Prime Minister Suga Yoshihide and Tokyo Governor Koike Yuriko.
Bach noted that Japan has already held sports events attended by spectators with some restrictions in place. He cited professional baseball games and a recent international gymnastics competition in Tokyo as examples.
Bach referred to the possibility that an advanced coronavirus testing system will be introduced and vaccines will be developed. He said he hopes that the Games will become a "light at the end of the tunnel" the world is going through at this moment.
He said that if a vaccine is developed, the IOC will make sure that as many athletes as possible will be vaccinated. He said the IOC will cover the cost of vaccination, if a vaccine is available.
Bach also said it is possible that the number of spectators allowed in the Games' venues will be limited.
He expressed confidence that a reasonable number of spectators will be able to attend the Games. But he said the IOC's first priority is to offer a safe environment.
Mori said a lot of fake news had spread over whether the Tokyo Games will be held but that Bach's visit to Japan has helped dispel people's doubts.
Mori expressed his resolve to proceed with the preparation of the Games, saying that the organizing committee will deepen ties with the IOC, while sharing values.