Bodies Of 4 People Found At Warehouse Fire Site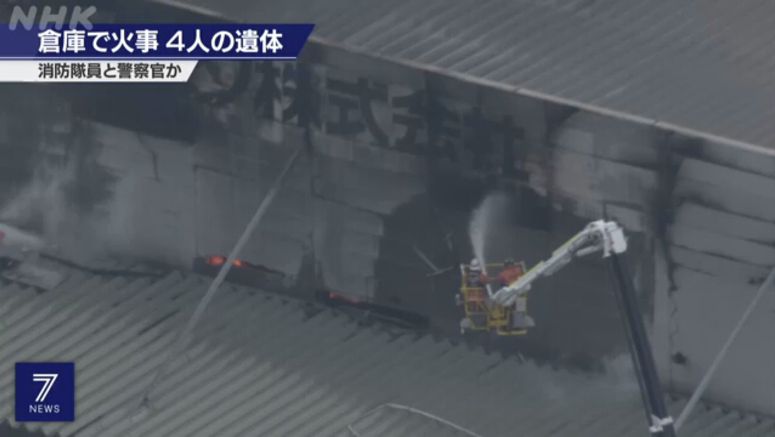 Police in Shizuoka Prefecture, central Japan, say they have found the bodies of four people at the site of a warehouse fire. They believe they are three firefighters and one police officer, who had been unaccounted for after rushing into the building shortly after the fire broke out.
Local firefighting authorities say that shortly after 1:30 a.m. on Sunday, they received a report from a security firm that the factory warehouse of a commodities manufacturer, LEC, was on fire in the town of Yoshida.
The fire burned the two-story, 7,000-square-meter warehouse for 16 hours before being extinguished.
The bodies were found on the second floor of the warehouse. Police are trying to identify them.
Three other people were slightly injured with burns.
Police and the Tokyo head office of the company say the warehouse was used to store sponge, sodium bicarbonate and other raw materials.
The office says employees packed raw materials into bags in the warehouse, but that no one was working there at the time of the fire.
Police and firefighters are investigating the cause of the fire.
The company says nothing spontaneously combustible was stored in the building.