Child Suicides In Japan Hit Record High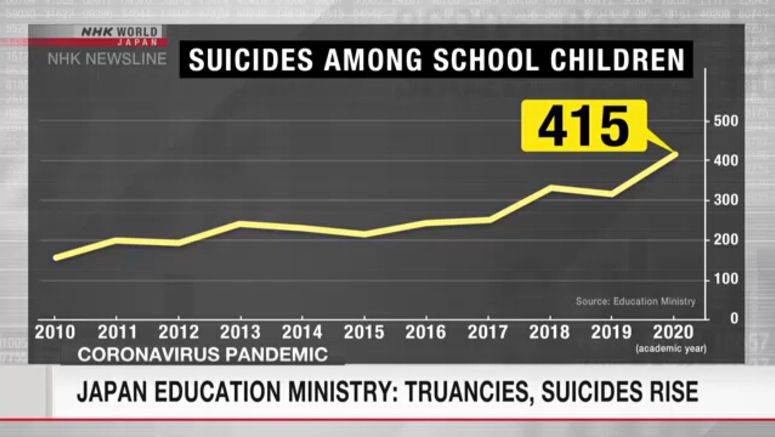 Japan's education ministry says its latest annual survey shows the number of schoolchildren who killed themselves topped 400 for the first time. Also, a record high of over 190,000 students of elementary and junior high schools stopped attending.
The ministry conducts an annual survey of elementary, junior and senior high schools, and schools for special needs education across the country. It covers bullying, truancy and suicides among students.
On Wednesday, the ministry published the results of its survey conducted for the 2020 school year.
The results show a record-high 415 children killed themselves in the year through March. That's up nearly 100 from the previous school year.
Seven of the students were in elementary school, 103 in junior high and 305 in senior high.
The number of elementary and junior high school students who were absent for 30 days or more was 196,127. That's up nearly 15,000 from the previous year and a record high.
The rate of children who were absent has also been on the rise. The rate for elementary children increased threefold over the past ten years, to one out of 100. The rate for junior high was one out of 24, up 50 percent.
The survey also looked into the number of children who stopped attending school due to concerns over coronavirus infection.
It shows the total of 30,287 elementary, junior high and senior high school students were absent for 30 days or more due to such concerns.
Eguchi Arichika, student affairs division chief at the ministry, says the results show that changes in school and household environments due to the pandemic have had a huge impact on children's behavior, and that the increase in the number of suicides is very regrettable.
The official adds that the ministry will work to encourage children to seek help, and to ensure learning opportunities for children who cannot attend school.