Continued Caution Urged For Gifu, Nagano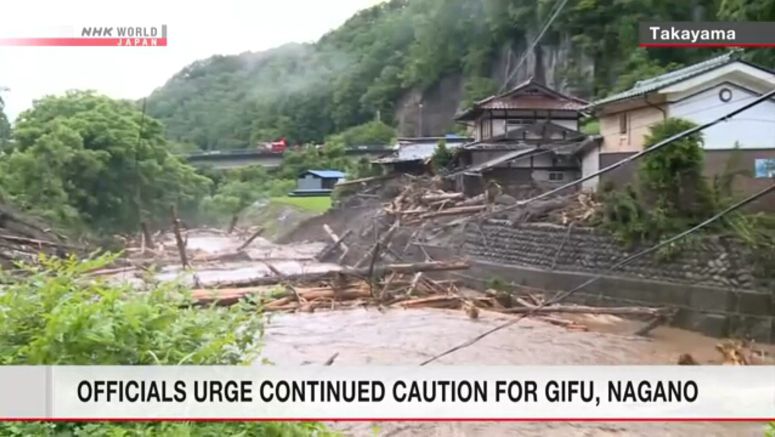 Torrential rains are swamping parts of Japan. The extreme wet weather has moved into the central and eastern part of the country, after causing widespread damage in the southwestern region of Kyushu. More than 55 people have died, and over 15 others are missing.
The Meteorological Agency has switched a heavy rain emergency warning for Gifu and Nagano prefectures to a warning. But officials are telling residents to stay vigilant as the water is still rising in local rivers.
Some areas have seen average rainfall for the entire month of July in just six days.
In Gifu Prefecture, the swollen Hida river reportedly flooded in the city of Gero, leaving neighborhoods submerged.
The gushing water has destroyed parts of a highway along the river.
The rain also triggered landslides that swept trees away and smothered houses. A number of homes in the city of Takayama were damaged.
A local man said, "Sand and rocks plunged down, jumped the river and slammed into the houses."
Powerful winds pose another problem. Some parts of central Japan saw roofs blown away by suspected tornadoes.
Roads to several areas have been cut off by flooding and landslides, leaving thousands of people isolated.
Workers are busy removing the mud and repairing the damage.
An NHK crew captured this scene on the island of Kyushu from a helicopter.
Emergency crews are still trying to get a full picture of the destruction, after days of intense downpours.
Fifty-six people have died in the region, and authorities say two more are without vital signs.
Rescuers continue to search for survivors. 17 people are missing, including some who were driving in the stormy weather and haven't returned.