Continued Caution Urged For Parts Of Kyushu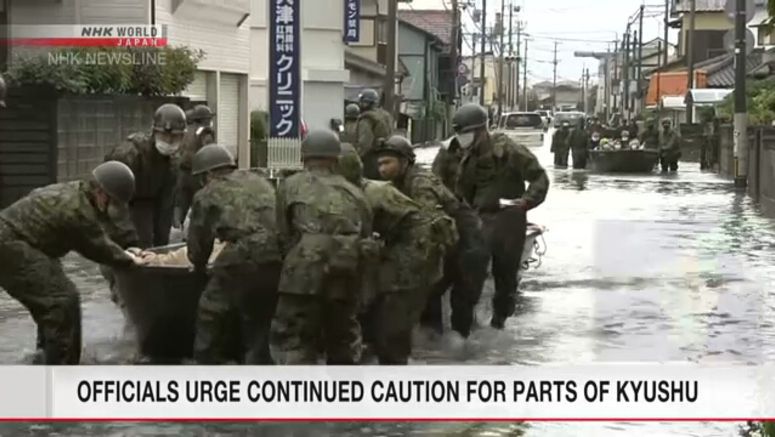 In Japan's southwestern region of Kyushu, the heavy rainfall is now being blamed for the deaths of more than 50 people.
Weather officials have switched a heavy rain emergency warning issued for Fukuoka, Saga and Nagasaki prefectures to a warning.
But they're asking people to remain on alert for landslides and rivers spilling over their banks.
Officials say Chikugo river flooded in Hita city in Oita Prefecture, and one of its tributaries flooded in Asakura city, in neighboring Fukuoka Prefecture.
Residents are asked to monitor evacuation information and secure their safety in case of a possible disaster. Further flooding is expected in several cities along the river.
Self-Defense Forces personnel are racing to rescue elderly residents in Omuta city, which is also in Fukuoka Prefecture. Many people have been calling for help along a river bank where houses have been submerged.
A woman said, " It was scary... the water was up to my neck."
Another woman said, "The water came up to my waist. I was using all of my strength to wade through, but was almost swept away."
Kumamoto Prefecture has been the worst affected. The heavy rain has claimed the lives of 52 people in Kyushu so far, and all but one of them are from that prefecture. Two other people in Kumamoto have no vital signs, and 11 are missing.
Rivers have flooded in a dozen places. An embankment along the Kuma river has collapsed, and a bridge has been swept away.
Many train and express bus services have been suspended in the affected areas. More than 6,000 households are without electricity in Kumamoto, Oita and Kagoshima Prefectures.