Coronavirus: Crew Members Disembark Cruise Ship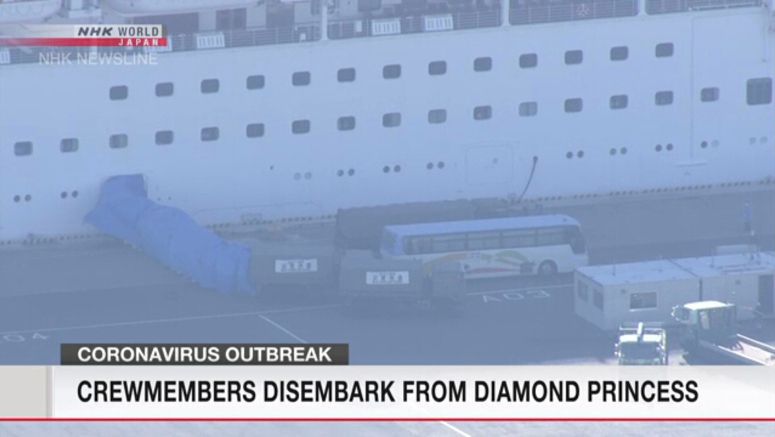 Crew members aboard the Diamond Princess cruise ship docked near Tokyo finally began disembarking on Thursday.
Those without symptoms will be quarantined and undergo medical checkups for 14 days.
It will take about 3 days for approximately 240 crew members to disembark. Most of them are foreigners. They will leave Japan after the two-week period if they test negative.
Meanwhile, in Osaka prefecture, health officials said a woman in her 40s has tested positive for the coronavirus for a second time. It's the first known case of its kind in the country.
The officials said, " This is a case that hasn't happened anywhere in the country where a person who has tested positive once and then has tested positive again."
Health officials said the patient is a tour guide from the city. She led a bus with visitors from Wuhan, China, the city at the center of the outbreak, last month. She was later diagnosed and hospitalized.
The woman was discharged after testing negative in early February. But about two weeks later, she began to feel pains in her throat and chest.
It took several trips to the doctor before she was tested for coronavirus. And on Wednesday, it came back positive. Officials say her case is unusual.
An expert on infectious diseases says people who are infected develop antibodies.
But if there's not enough, a person could be prone to re-infection.
Across Japan, there are nearly 900 cases of coronavirus. More than 700 of those emerged inside a quarantined cruise ship docked near Tokyo.
Seven people have died including 4 who were onboard the Diamond Princess.
The outbreak has prompted the Japanese government to call for major events to be cancelled, delayed or scaled back for the next two weeks.
It's also prompting every elementary and junior high school in Hokkaido to close for about a week.
Local governments across the northern prefecture took the preventative measure on Wednesday.
Hokkaido has the largest number of infected people in Japan, a list that includes children, a teacher, and a school-bus driver.
Governor Naomichi Suzuki said, "This is an unprecedented decision, but we need residents' help."
The transport ministry is also implementing new measures to try to contain the spread of the virus.
In Hiroshima Prefecture, a major rail operator called on passengers to stagger their start times to prevent large crowds from gathering.