Coronavirus Hospitalizations Surge In Japan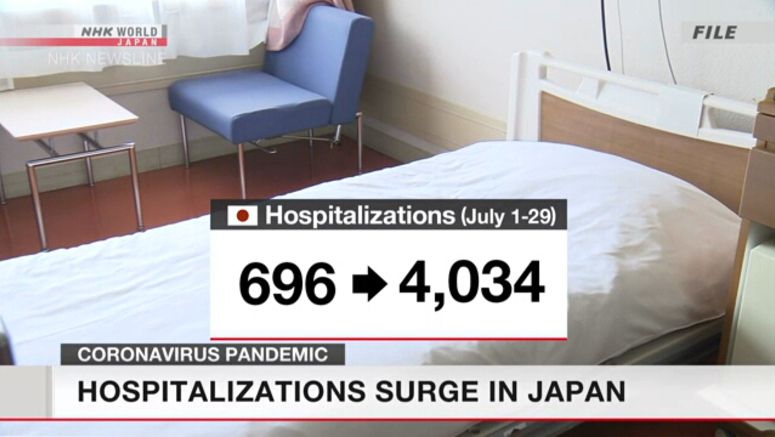 Health officials say the number of coronavirus patients receiving treatment at hospitals across Japan has shot up more than five-fold in the space of just one month.
The Health, Labor and Welfare Ministry said on Tuesday that 4,034 in-patients were in hospital for treatment as of July 29. This compared to 696 in-patients four weeks earlier, on July 1.
Ministry officials said the number of coronavirus in-patients in Tokyo increased about 4.2 times during the same period to 1,250.
The number of in-patients jumped 20.5 times to 534 in Osaka Prefecture, 65 times to 195 in Aichi Prefecture and 24.7 times in Hyogo Prefecture to reach 148.
The officials said that in Tokyo, 37.9 percent of hospital beds set aside for coronavirus patients were occupied as of July 29. The figure is up 28.9 percentage points from the beginning of the month.
The occupancy rate in Osaka was 42.5 percent, up 40.5 percentage points, and 39 percent in Aichi Prefecture, up 38.4 percentage points. The rate was 22.7 percent in Hyogo Prefecture, up 21.6 percentage points, and up 4.8 percentage points at 7.3 percent in Kanagawa Prefecture.
Health Minister Kato Katsunobu said there is no pressing need for hospital beds for coronavirus patients in Japan. But he noted that some hospital staff say the burden they have to deal with is increasing, regardless of the number of beds they have allocated for such patients.