Coronavirus Subsidy Fraud On The Rise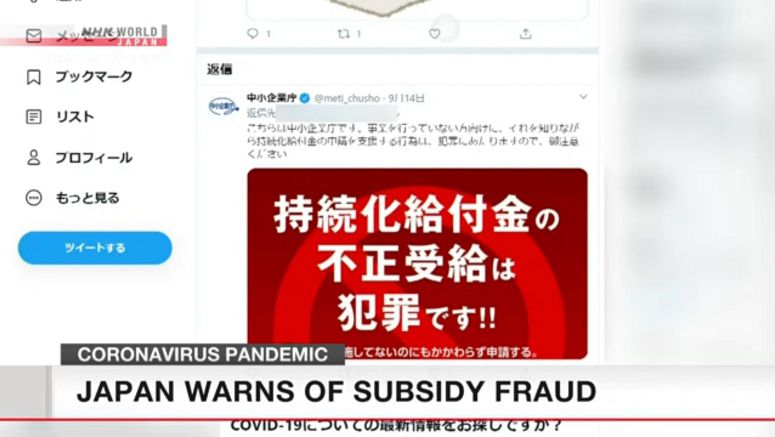 Japanese officials are stepping up efforts to tackle an increasing number of cases of fraud involving coronavirus-related subsidies.
Japan's government is providing subsidies of up to 19,000 dollars to small and medium-sized companies and up to 9,500 dollars for freelancers and other self-employed people whose earnings have dropped sharply due to the coronavirus outbreak.
Eligibility for the subsidies requires that revenue for any month this year be half or below that of a year earlier.
The Small and Medium Enterprise Agency says people including many students and company employees have illegally received such subsidies.
The agency says they were led by others on social media to apply for the funds by falsely claiming that they do business on their own, and were told to pay part of subsidies they received as a service fee.
In June, the agency assigned officials to investigate fraud cases. Private companies entrusted with carrying out the subsidy program are stepping up screening by accumulating data on methods used in such cases.
The agency is also posting on social media warning messages saying that soliciting fraudulent applications is a crime.
The agency says those receiving subsidies illegally will be asked to return them with overdue fees calculated at an annualized 3 percent, as well as 20 percent of the total amount.
The agency also says it will make the recipients' names public and that they could face criminal charges.
An official of the agency said that in many cases, people accepted invitations to make fraudulent applications without much thought, but that they will be severely punished when their wrongdoing is discovered.
The official said the procedures have been simplified to provide the subsidies quickly, but that fraud must never be allowed and the agency will investigate thoroughly in cooperation with police.