Covid - 19 Panel Okays Restrictions For More Areas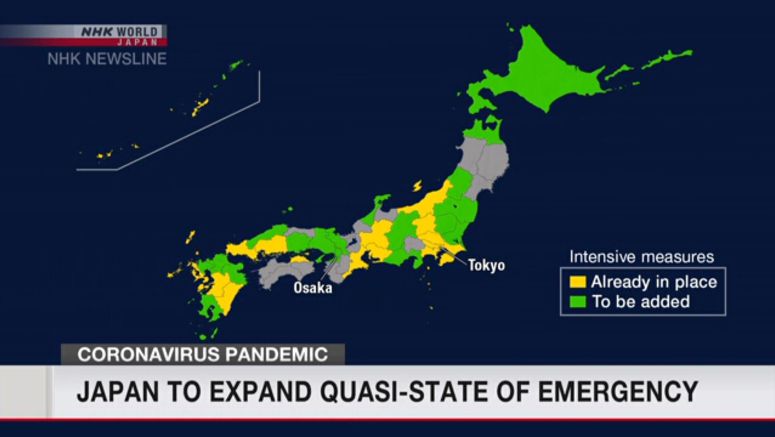 Japan's coronavirus panel has approved the government's plan to expand areas where quasi-emergency measures are in place to stem the spread of the coronavirus and prevent a strain on healthcare.
The restrictions will be in effect in 18 more prefectures from Thursday to February 20. Intensive measures already in place in Okinawa, Yamaguchi and Hiroshima prefectures until next Monday will be extended until February 20.
As a result of the move, 34 of Japan's 47 prefectures face tighter anti-coronavirus restrictions. The 18 added prefectures are Hokkaido, Aomori, Yamagata, Fukushima, Ibaraki, Tochigi, Ishikawa, Nagano, Shizuoka, Kyoto, Osaka, Hyogo, Shimane, Okayama, Fukuoka, Saga, Oita and Kagoshima.
The Cabinet Office's state minister in charge of coronavirus measures, Kikawada Hitoshi, explained on Tuesday that the prefectures requested the measures.
He said the alert for the situation of infections and medical care was judged to be at level two, and that case counts are rising quickly. He said if the spread of infections continues at this rate, healthcare may soon shoulder a heavy burden.
Kikawada said many people are still testing positive in Okinawa, Yamaguchi and Hiroshima, and there are concerns that healthcare could be even more burdened depending on the future situation of infections.
The government plans make the decision official after briefing the Diet in advance and holding a question-and-answer session.