Culling Of Chickens Underway In Fukuoka Prefecture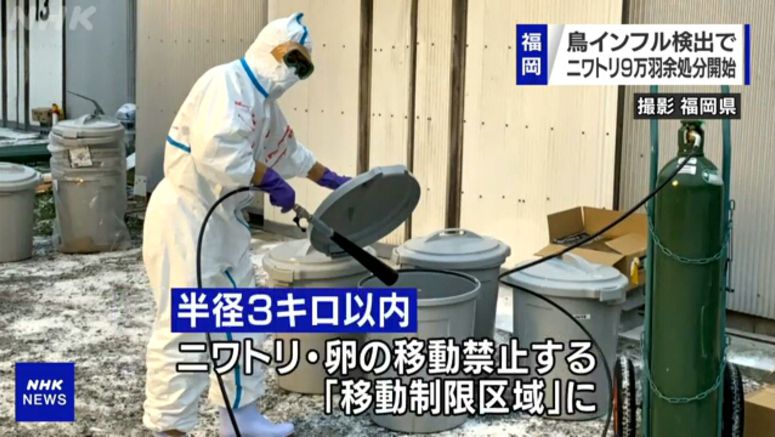 Authorities in Fukuoka Prefecture, western Japan, are culling about 93,500 chickens after the H5 strain of bird flu was detected in dead poultry at a farm.
The farm in Munakata City reported on Tuesday that a number of chickens had died. Tests by local authorities found that the virus is likely to be the highly pathogenic H5 strain which has a high death rate. The central government plans further examination.
Chicken culling and disinfection at the farm and nearby areas began Wednesday morning.
The prefectural authorities have banned the transport of chickens and eggs within a 3-kilometer radius of the farm. They have also restricted shipments from the area within a 10-kilometer radius of the farm.
Bird flu virus has been confirmed in poultry farms in Kagawa Prefecture since early this month. It has also been found in wild bird excrement in Kagoshima Prefecture and elsewhere.
This case marks the first time it was detected at a poultry farm in Fukuoka Prefecture.
The agriculture ministry is urging poultry farmers to take thorough sanitation measures.