Emergency Declared For Japan's 7 Prefectures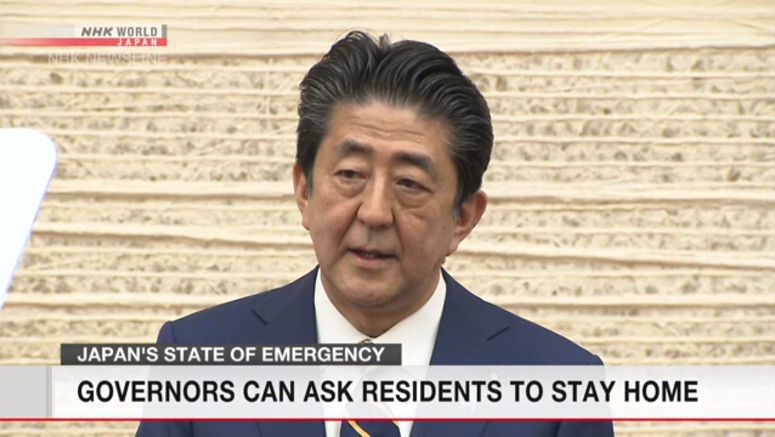 Japan's prime minister has officially declared a month-long state of emergency for Tokyo, Osaka and five other prefectures to curb the spread of infections.
Abe Shinzo held a news conference Tuesday night to explain the decision which will affect tens of millions of people. He began by thanking health care workers across the country who have dealt with more than 4,300 COVID-19 cases so far.
Abe Shinzo said, "Medical workers are at risk of infection. But they are doing their best despite the serious situation. We want to do whatever we can to support and protect them."
The declaration covers the following prefectures: Tokyo, Kanagawa, Saitama, Chiba, Osaka, Hyogo and Fukuoka. It will be in place until May 6th.
The governors of these prefectures can now enact measures on their own to counter the virus.
Abe says he is concerned about the situation in Tokyo, which has a quarter of all confirmed infections at around 1,200. He says at the current pace, the capital will see over 80,000 cases in a month.
Abe said, "According to experts, if all of us help to reduce person-to-person contact by at least 70 percent.... and preferably 80 percent... the infections will peak and start to decline in two weeks."
Abe again called on residents to stay home and avoid non-essential outings for a month.
He said, "We all must behave as if we have already contracted the virus. We want everyone, especially younger people, to act based on that assumption."
He reiterated that his administration will not impose a lockdown... as some foreign governments have.
Abe says he will try to minimize the impact on economic and social activities. Public transportation and supermarkets will remain open.
He also said the government will pass a one-trillion-dollar financial package. Abe says the unprecedented stimulus amounts to about one-fifth of Japan's GDP.
The prime minister says he's confident Japan can overcome this hardship, as it did after the March 2011 earthquake and tsunami.