Emergency Warning Changed To Warning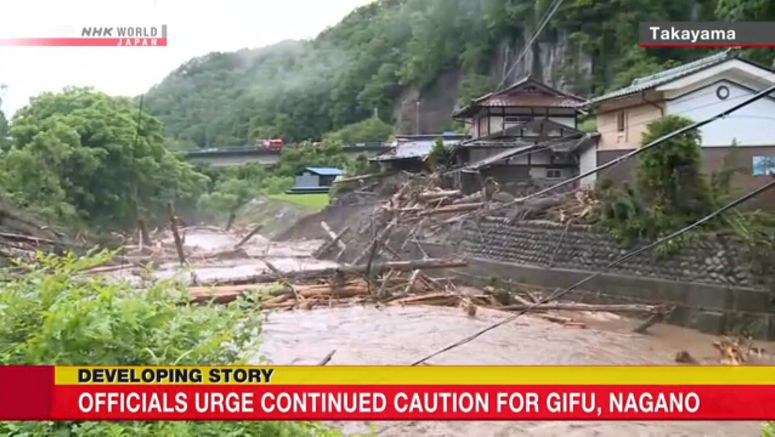 The torrential rain that's been swamping the southwestern region of Kyushu has now extended into the central and eastern part of the Japanese archipelago. The Meteorological Agency has switched a heavy rain emergency warning for Gifu and Nagano prefectures to a warning. But officials are telling residents to continue to watch out as the water is still rising in local rivers.
The areas are experiencing rainfall that hasn't been seen in several decades. Officials say the average rainfall for the month of July has already been exceeded.
In Gifu Prefecture, the swollen Hida river reportedly flooded in Gero City, leaving communities submerged.
The rain also triggered landslides that swept trees away and smothered houses. In Takayama City, residents say mud from a nearby slope came sliding into their home.
Evacuation orders and advisories are in place across the prefecture.
An evacuee said, "Water from the river flowed into a rice paddy near my house. It came as close as just 5 meters away from us. So we thought we should evacuate."
Rivers are also raging in neighboring Nagano Prefecture, while water levels rise in rivers across the country.
In Shimojo village, there are reports of residences being submerged.
In the town of Kiso, officials say they received several reports of mud overflowing on the roads.
Residents in multiple municipalities in the prefecture are being urged to evacuate as well.
Meanwhile, days of heavy rain in Kyushu have left extensive damage that is just being tallied.
Fifty-six people have died in the region, two are without vital signs, and 17 others are missing.
Rescue workers are continuing their search for the missing, which include reports of people who were driving and haven't yet returned.