Expert: Criticism Helped Improve Ship's Condition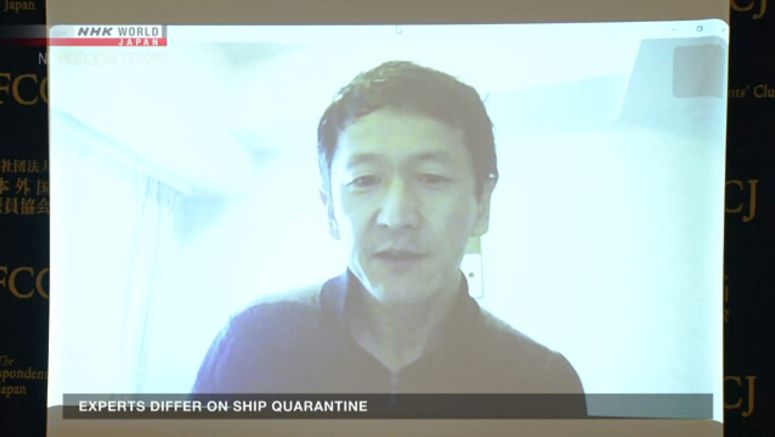 An expert on infectious diseases says his criticism has helped improve the situation on the coronavirus-hit Diamond Princess.
Professor Kentaro Iwata of Kobe University spoke on Thursday at the Foreign Correspondents' Club of Japan in Tokyo using a TV-conference system.
Iwata was allowed on board the ship as a member of a medical team on Tuesday and later posted a YouTube video, in which he said prevention measures were inadequate.
Iwata said there was no distinction between zones free of infection and potentially contaminated zones and some crew members were walking around in both zones.
He also said the areas to put on or take off protective suits were not clearly marked.
But speaking at the news conference, Iwata said he heard that major improvements were made on Wednesday, such as a thorough distinction in terms of zoning.
Iwata said progress was also made in information disclosure, such as data released by the National Institute of Infectious Diseases on people infected with the virus on board the ship.
He said he has now removed the video clip because it had played a role in helping improve the situation.
But Iwata added that those who disembarked after testing negative in virus tests need to be monitored for two weeks because risks of infection remain.