Expert: Japan In Second Wave Of Outbreak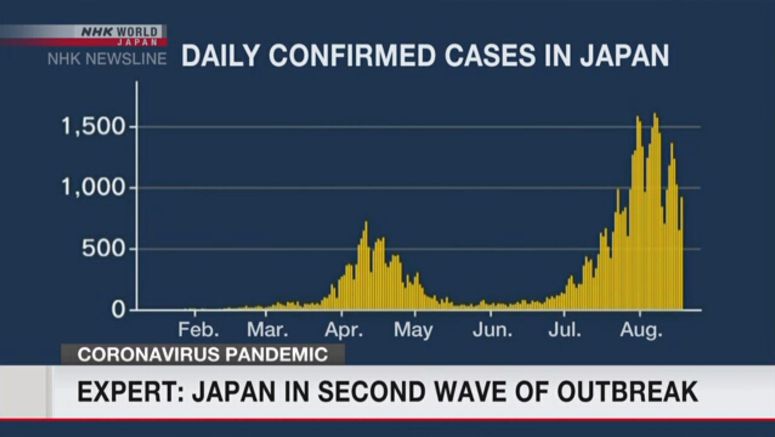 A prominent infectious disease expert in Japan is warning that the country is in the midst of second wave of the coronavirus outbreak. The alarm comes as the number of seriously ill patients has been rising.
The western prefecture of Osaka reported 187 new cases on Wednesday ... the most among the country's 47 prefectures. There were 65 seriously ill patients as of Tuesday ... more than double the figure for Tokyo.
Osaka Governor Yoshimura Hirofumi said, "We call on our people to avoid high-risk areas and high-risk activities to contain the spread. If you have any symptoms, please take a virus test immediately."
Tokyo reported 186 new cases on Wednesday. More than half were people in their 20s or 30s.The overall number in the capital stands at over 18,000.
The members of the Association for Infectious Diseases held a meeting to discuss the situation.
Tateda Kazuhiro of Japanese Association for Infectious Diseases said, "We are now in the midst of a second wave. People may think coronavirus infections have peaked out, both in Tokyo and nationwide. But we need to closely monitor the situation for whether a resurgence is underway."
Tateda said the situation may be worse now than a few months back.
He said, "The chart of new daily infections shows a rise from April through May, and another peak, higher than the previous one, being formed now. This shows that Japan is in the middle of a second wave."
The minister in charge of the coronavirus response says the government recognizes the urgency ... but hasn't defined what a second wave is.
Economic Revitalization Minister Nishimura Yasutoshi said, "With regards to daily new cases, the current figures are higher than those during the state of emergency. We consider the current wave to be a big one.
He says the government will take the necessary steps based on the analysis and assessment of experts.
More than 1,000 new cases were reported across the country on Wednesday. That brings the nationwide total to nearly 60,000, with more than 1,100 deaths.