Expert: River In Tokyo Could Have Breached Banks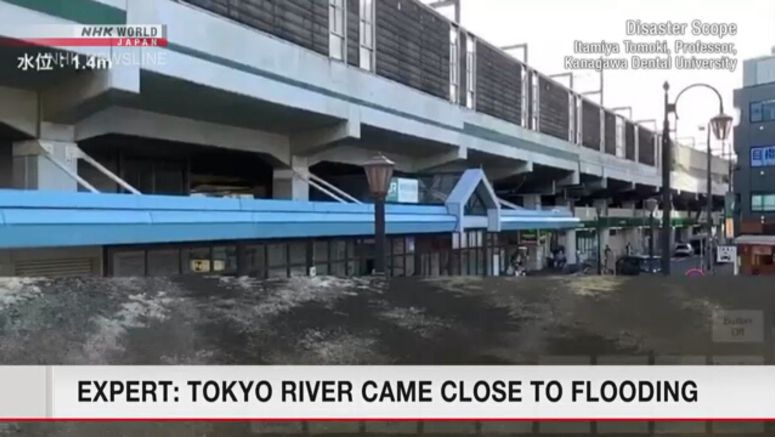 NHK has learned that according to a study, a major river that runs through Tokyo and neighboring Saitama Prefecture could have breached its banks if Typhoon Hagibis had brought more rain last year.
Tokyo University of Science Professor Nihei Yasuo conducted a flood simulation on the Arakawa River using 21 forecasts the Meteorological Agency issued 10 hours before the typhoon made landfall in October last year.
Water levels on the river rose to a record 13.08 meters at one observation point in Saitama, but the river managed to hold its banks.
The worst-case scenario forecasted rainfall to be 80 millimeters more than it actually was over a two-and-a-half-day period.
The study found that river water would have flowed into residential areas, if it had risen another 26 centimeters on the right bank near the Hanekura Bridge, which is located 37 kilometers from the river mouth.
Nihei also found that water levels could have exceeded the limit banks are designed to withstand for 23 kilometers out of the 40-kilometer stretch where he conducted his simulation.
He says the likelihood of a river bursting its banks increases when water levels stay higher than this limit for many hours.
At some locations, water levels exceeded the limit for more than 12 hours. The levels near the Hanekura Bridge surpassed the limit for six hours.
The land ministry has warned that if the banks collapsed near the bridge, wide areas including Tokyo's Itabashi and Kita wards could have been flooded.
Nihei says Hagibis didn't cause floods because rainfall was lower than forecast.
He also says flooding of the Arakawa River could become a reality, and authorities should prepare for such an event.