Experts Ask Govt. To Brace For More Cases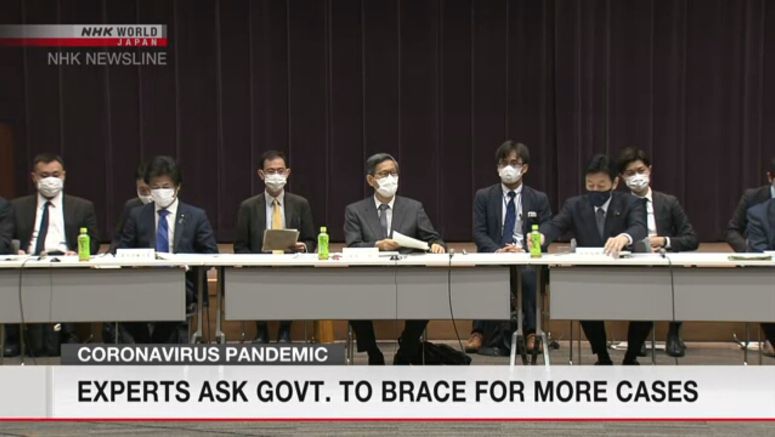 Japanese government's panel of coronavirus experts have issued advice on a number of measures to address a surge in infections.
The recent spikes are bringing some local healthcare systems to the brink.
The panel head, Omi Shigeru, said, "There's a major trend in the virus transmission pattern. Infections have occurred in nursing homes or hospitals...And some of the infected are experiencing severe symptoms and sadly losing their lives."
Experts met with officials Friday morning... near the end of what they called a crucial three weeks.
The experts are urging the government to think of new measures that can be implemented after the three-week period is up...and have three plans ready depending on the situation.
If cases continue to rise in hot spots, they say restaurants and bars should close earlier and residents should refrain from cross-border travel.
The government's subsidy travel campaign was also on the agenda.
Aimed at supporting the pandemic-battered economy, it's seen locals travel across the country to take advantage of cheap deals on flights, restaurants and lodging.
The expert panel says the country should continue excluding areas with high numbers of cases from the program.
Tokyo confirmed 595 new cases on Friday. The figure is the second-highest daily figure, after Thursday's record.
And in the western prefecture of Osaka, help is on the way to deal with a rise in cases that have put the healthcare system under serious strain.
Japan's Defense Ministry is dispatching Self-Defense Force nurses. They'll head to a local hospital and a facility set to treat patients with severe COVID-19 symptoms.