Experts: Vigilance Needed After 4 - Day Holiday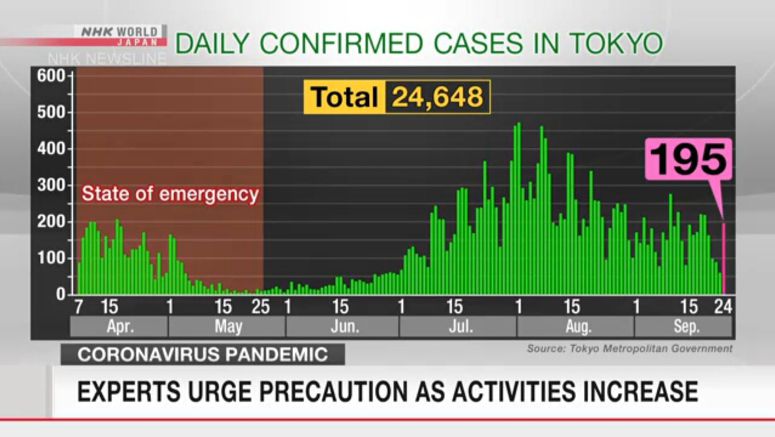 Experts have maintained the coronavirus alert level for Tokyo at the second highest on a four-point scale, and warned that vigilance is needed over the effects of the four-day holiday through Tuesday.
Officials of the Tokyo metropolitan government and experts on public health and infectious diseases met on Thursday to assess the coronavirus situation.
One of the vice presidents of the Tokyo Medical Association, Inokuchi Masataka, said the daily average of newly confirmed cases was 145 during the seven days through Wednesday, down from 181 in the preceding week.
Inokuchi pointed out that the number of tests taken decreased during the four-day holiday, which likely affected the confirmation of new cases.
He warned of a possible spike in cases, saying increased risks of infection during the holiday could send the number up again.
Thursday's meeting also assessed the medical care situation in the capital. It kept the alert level for the medical system at the second highest of a four-point scale for 12 weeks in a row. The level means strengthening the system appears necessary.
The experts noted the prolonged burden on medical institutions, and called for a close watch on the number of hospitalized patients and those in serious condition.
The Tokyo metropolitan government said 195 new cases of the coronavirus were confirmed in the capital on Thursday. The number topped 100 for the first time since Sunday. The total tally in Tokyo now stands at 24,648.