Experts Warn Of Rise In Serious Coronavirus Cases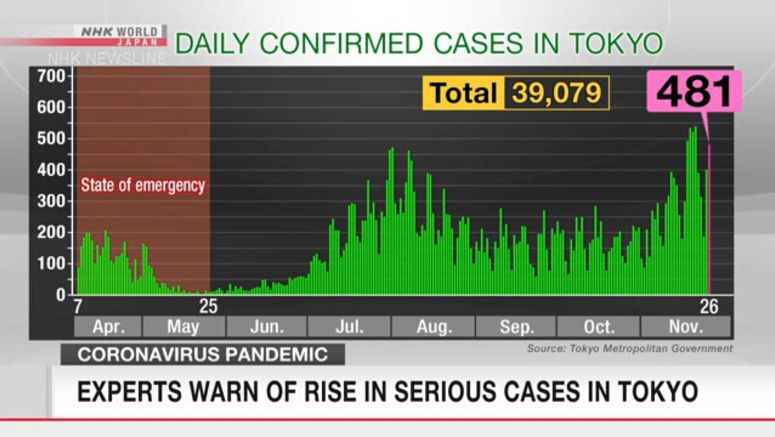 Medical experts have warned that the number of serious coronavirus cases is expected to rise further, likely overstretching Tokyo's general medical care system.
The experts said treating COVID-19 patients in serious condition while providing normal medical care would become "extremely difficult."
The warning came when infectious disease and public health experts met Tokyo Metropolitan Government officials on Thursday to assess the coronavirus situation.
The experts reported that the daily average of newly confirmed cases in Tokyo in the week through Wednesday was 400, up sharply from the daily average of 326 in the preceding week. The latest figure was the highest ever.
The experts said infections are spreading rapidly, and that measures to stop a further increase must be taken immediately, before the situation gets extremely serious. They also said elderly people are at particularly high risk of serious infection by the virus, and that such risks must be reduced.
The meeting kept Tokyo's infection alert at the highest level of a four-point scale. The alert for medical care availability was kept at the second-highest level.
The number of serious cases in Tokyo as of Wednesday was 54, up sharply from 39 a week earlier.
Tokyo Medical Association Vice President Inokuchi Masataka said the number of serious cases will increase a little after the rise in new infections. He added that close vigilance is needed for a possible impact on the general medical system.