Few Travelers Seen At Start Of Week - Long Holiday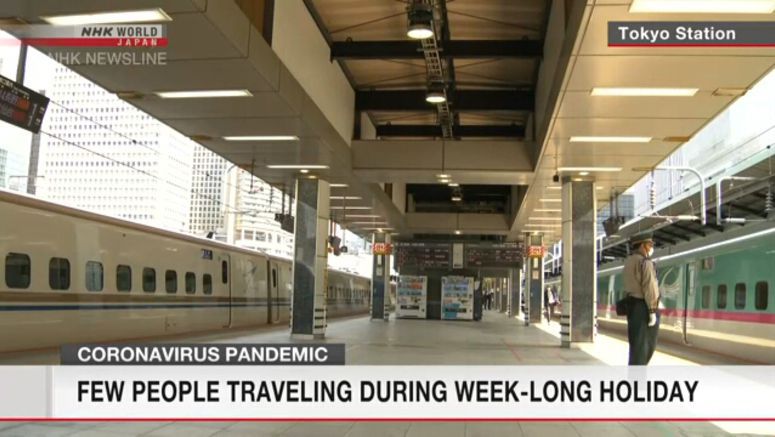 Few people were seen at major transportation hubs in Tokyo and highways were quiet throughout Japan at the start of the country's week-long spring holiday on Wednesday.
Japan Railway group companies say less than 10 percent of non-reserved seats on all Shinkansen bullet train lines were occupied on Wednesday morning.
The companies say many reserved seats were also vacant, and that the number of reservations as of April 21 was down 95 percent from a year earlier.
A woman at Tokyo Station said she will go to her hometown in Miyagi Prefecture, northeastern Japan, to be with her elderly parents.
She said she visits them three times a month to provide nursing care and must continue to do so despite the coronavirus outbreak.
All Nippon Airways canceled 85 percent of its domestic flights, and Japan Airlines canceled about 60 percent.
Japan Airlines says the number of reservations for its domestic flights from Wednesday to May 6 dropped to 9.5 percent of the same period last year. The company and other airlines say many reservations have been canceled.
A woman at Tokyo's Haneda Airport said she will leave for Miyazaki Prefecture, southwestern Japan, as her elderly mother living there has been taken to a hospital.
No traffic congestion or traffic jams on expressways have been reported anywhere in Japan.