First Weekend Of Tokyo's Emergency Shutdown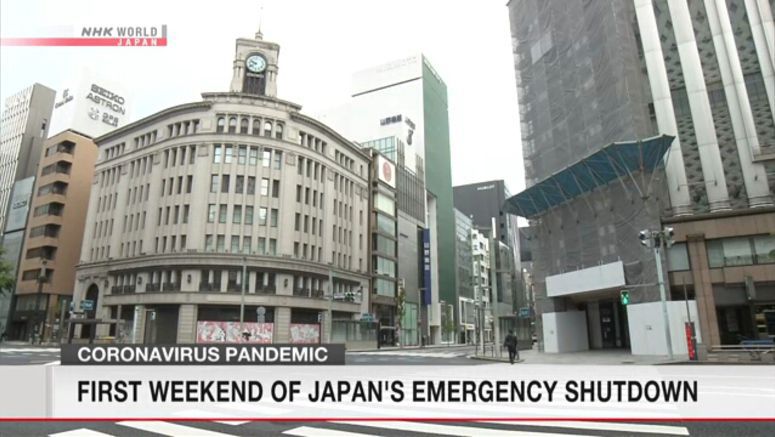 Tokyo has seen another increase in the number of new coronavirus infections. One-hundred sixty-six cases were confirmed on Sunday alone, bringing the total in the capital to more than 2,000.
Residents of Tokyo spent their first weekend at home since a month-long state of emergency was declared.
There were relatively few people out on the streets.
Governor Koike Yuriko has asked people to not go outside unless it's absolutely necessary.
But one of the biggest shopping areas was bustling with activity. Many people could be seen on the more than one-kilometer-long shopping street.
Governor Koike asked residents to maintain safe distances from each other.
Koike said, "If everyone thinks the situation is not that serious and goes out with their family members, it will cause congestion. Please try not to create such an environment on your own."
The metropolitan government has asked some businesses to close. Restaurants and bars were asked to close by 8 p.m., while essential services such as supermarkets, public transit and hotels remained open.
The Japanese government is also asking businesses to slash the number of in-office employees by 70 percent or more in state-of-emergency areas. It wants to reduce person-to-person contacts by 80 percent.
The government says people's movements have declined by about 60 to 70 percent in major cities.
But it also says the number of commuters has not dropped as much as anticipated.
A government website has begun showing data on people's movements in key districts.
It's based mainly on location data from mobile phones.
Officials hope the data will encourage companies and individuals to do more to reduce crowding.
Across Japan, nearly 7,400 people have tested positive for the virus. The tally doesn't include over 700 cases linked to the Diamond Princess cruise ship, which was quarantined in Yokohama.
About 150 people have died, including 12 from the ship.