Floods, Mudslides Hit Southern Japan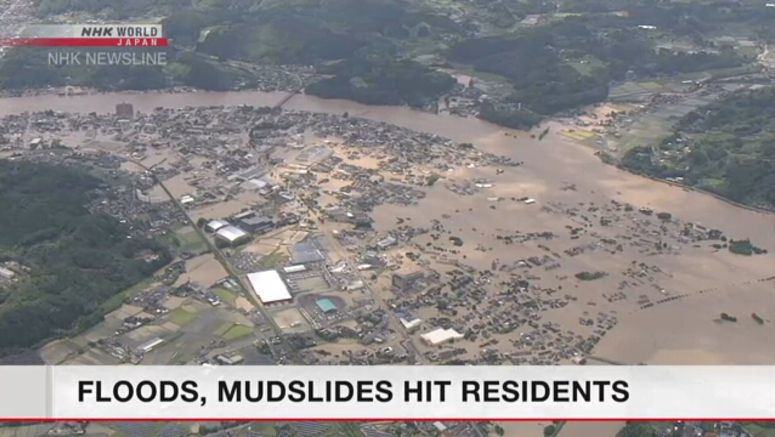 Torrential downpours lashed parts of southern Japan on Saturday morning.
With the rain easing, the heavy rain 'emergency warning' issued for Kumamoto and Kagoshima prefectures in the Kyushu region has been changed to a 'warning'.
However, weather officials continue to urge people to remain on the alert against flooding and landslides.
The weather agency says warm and moist air has flown into a front and a low pressure system.
This has created unstable atmospheric conditions over wide areas of the country, with a band of rain clouds mainly covering Kyushu.
The downpour has dumped more than 100 millimeters of rain an hour on parts of Kumamoto Prefecture.
The Kuma River in southern Kumamoto has flooded and a bridge has been washed away. Emergency services say they've taken over 100 calls asking for rescue.
The local government says several houses have been swept away, and officials are unable to contact more than 10 people.
Rescuers trying to reach stranded residents are being obstructed by blocked roads.
The front will remain in place and may bring more rain, especially to western Japan.
Weather officials are also warning of flooding in low-lying areas, overflowing rivers, as well as lightning strikes and sudden wind gusts.