Foreign Media Questions Japan Over Disembarkation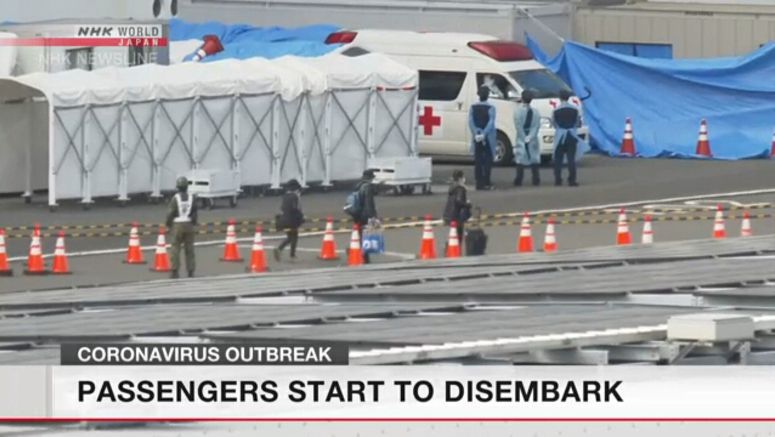 Foreign media are expressing doubts and concerns over the Japanese government's treatment of people who are disembarking the coronavirus- hit cruise ship. Japan is allowing those people to use public transportation and to return to their homes.
People started leaving the ship on Wednesday and will continue to disembark on Thursday and Friday.
The New York Times published an article with a headline, "Japan Lets Cruise Passengers Walk Free. Is That Safe?" It reported that many countries other than Japan considered the quarantine period inside the ship ineffective, and that passengers who flew back home to their own countries will face another 14-days quarantine.
It quoted an expert from Australia as pointing out that people who have just recently been infected with the virus may develop symptoms within a few days even if they tested negative in an earlier examination.
BBC carried an interview with a Japanese university professor who pointed out the inadequacies of infection measures taken inside the ship.
The British public broadcaster cites a statement from the US Centers for Disease Control and Prevention. It says that a new case of infection among people with no symptoms means the risk is still high.
The BBC also said the South Korean government has banned foreigners on board the cruise ship from entering the country.
Reuters quoted an Israeli expert as saying: "How is this quarantine going to be lifted when there is practically continuous exposure? It doesn't make sense epidemiologically."
It cited the growing criticism of the Japanese government and says "Japan faces deepening criticism over its response to the outbreak, tarnishing what was supposed to be a triumphant Olympic year for Prime Minister Shinzo Abe."