G20: Suga Calls For Global Access To Covid Vaccine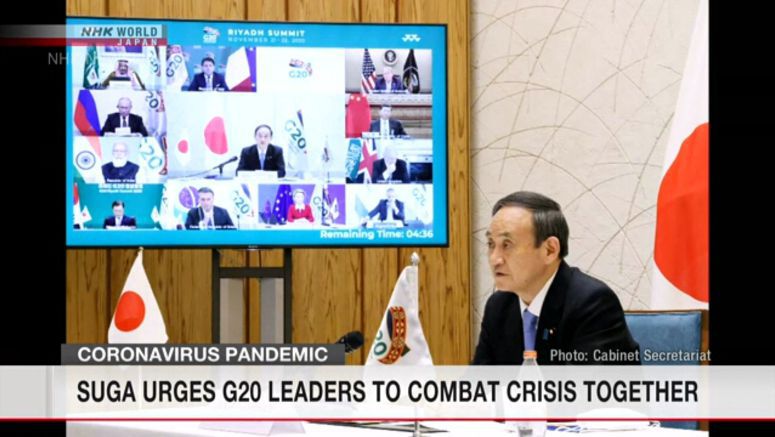 Japan's Prime Minister Suga Yoshihide has called on the Group of 20 major economies to push for the availability of coronavirus vaccines and treatments for people around the world.
Suga spoke at an online G20 summit chaired by Saudi Arabia. US President Donald Trump and Chinese President Xi Jinping were among the leaders who took part on Saturday, at the start of the two-day summit.
Suga said the G20 should clearly send a message that it will take the lead in responding to the pandemic, restoring economic growth, resuming international travel, and in creating a post-COVID international order.
Suga noted the importance of creating an environment in which everyone around the world can gain access to therapeutics, vaccines, and diagnostics.
He said this requires a comprehensive effort, including in development, production, and delivery of medications. He said Japan plans to help establish universal health coverage, in which high quality healthcare is provided to all.
Suga said no effort should be spared in order to achieve a global economic recovery and to resume international travel, while taking measures to prevent the spread of infections. He suggested that Japan will promote international rule-making in the digital field and strengthen supply chains.
On the Tokyo Olympics and Paralympics, which have been postponed to next year, Suga said he is determined to stage them, as proof that mankind has overcome the virus. He stressed that his government will go all-out to hold the Games safely and securely.