Giant Pumpkin Contest Held Ahead Of Halloween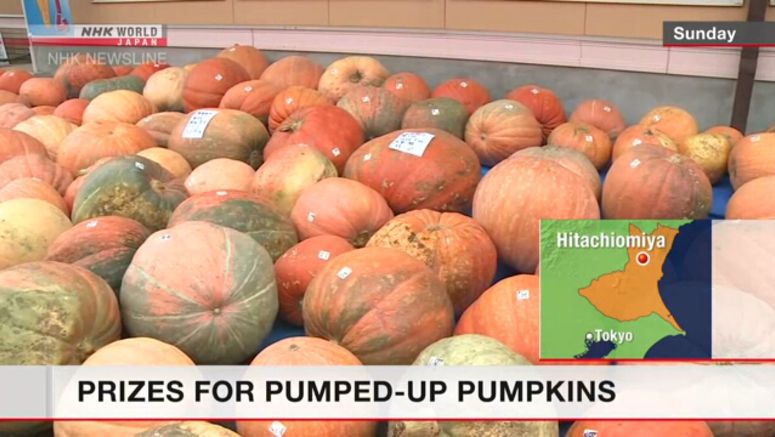 Some 300 giant pumpkins weighing over 60 kilograms each have been gathered at a contest in Ibaraki Prefecture, northeast of Tokyo, ahead of the Halloween season.
The contest in the city of Hitachiomiya judges which pumpkin is the heaviest. The annual event began 12 years ago when around 40 local farmers started growing pumpkins.
On Sunday, visitors enjoyed the sight of the huge pumpkins lined up in the parking lot of a local farmers' market. Some people took photos.
The heaviest pumpkin weighed 68.1 kilograms.
Ogushi Shoichi, the farmer who grew the winning pumpkin, said he was happy to win, but his pumpkin was lighter than the ones he usually grows.
He said he aims to produce a 100-kilogram pumpkin next year.
Local farmers say their pumpkins this year are smaller than usual due to a lack of sunshine during the rainy season, and to the summer heat wave. But they say the pumpkins are more glossy and have better color.
The head of the group that organized the event said he was glad that people enjoyed the contest, and that he hopes people feel happy to see such unusual pumpkins.