Governors Call For Continued Vigilance On Covid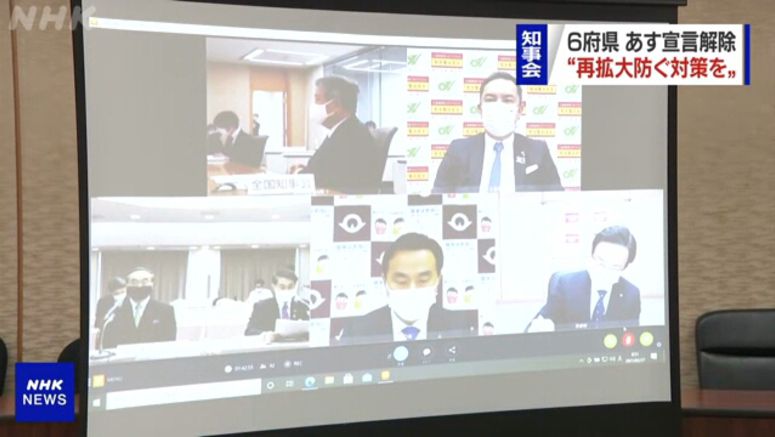 The governors of about 40 Japanese prefectures have met online the day before the lifting of the coronavirus state of emergency for six prefectures. Many stressed the importance of measures to prevent a resurgence in new cases.
The National Governors' Association convened an emergency task force meeting online on Saturday.
The emergency declaration will be lifted on Sunday for six prefectures including Osaka and Aichi, but remains in place for Tokyo and three surrounding prefectures through March 7.
Osaka Governor Yoshimura Hirofumi said preventing a rebound in new cases is extremely important.
He said he has asked restaurants and bars in Osaka City to close by 9 p.m. through March 21. Such establishments are being asked to close by 8 p.m. under the state of emergency.
Yoshimura says he wants to see case numbers stay low while allowing social and economic activities.
Aichi Governor Ohmura Hideaki said the prefecture's own COVID-19 restrictions will remain in force during the first two weeks of March. He has urged people to remain vigilant for a possible resurgence as there will be many events and group-dining occasions related to graduation and entrance ceremonies in March and April.
Governor Ono Motohiro of Saitama, where the declaration will remain in place, said there had been a slowdown in the rate of decline of new cases. He added there are concerns over high hospital bed occupancies and the spread of variants.
He said his prefecture is not yet ready for the lifting of the declaration and called for continued efforts to stem new infections through March 7.
The governors later drew up emergency recommendations for the central government.
They called for robust anti-virus measures, even after the state of emergency is lifted.
They also asked the government to provide economic and employment support for prefectures not under the state of emergency and industries where shorter business hours have not been requested.