Govt. May Lift State Of Emergency In Many Prefs.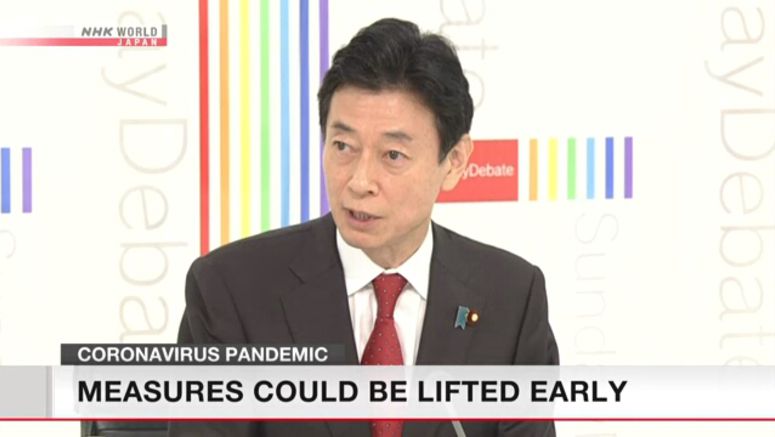 Japan's government says it may lift the nationwide state of emergency regarding the coronavirus outbreak before the planned end date of May 31 in many of the 34 prefectures that are not under special alert.
Economic Revitalization Minister Nishimura Yasutoshi said on an NHK program on Sunday the government will consider lifting the emergency declaration after listening to the opinions of an expert panel next week.
Nishimura noted that declines in weekly new cases and new infections in proportion to regional populations would be some of the factors considered in making such a decision.
He said the state of emergency may be lifted in prefectures where no new infections have been reported. He added the declaration could also be lifted in the 13 "special alert" prefectures, which include Tokyo and Osaka, depending on circumstances.
Health, Labor and Welfare Minister Kato Katsunobu referred to employment subsidies for businesses that do not fire their employees despite a drop in sales.
He noted the government is working toward providing the subsidies at least two weeks after receiving applications by drastically simplifying the procedures.
He said the government is also considering increasing the current subsidy of up to 8,330 yen, or about 80 dollars, per day provided to companies for each employee taking time off due to the spread of the virus.
The chairman of the Japan Chamber of Commerce and Industry, Mimura Akio, also took part in the program.
He said bankruptcies and the closing down of businesses would take a heavy toll on society, and urged the government to provide the subsidies as soon as possible.