Guterres Not To Attend Hiroshima A - Bomb Event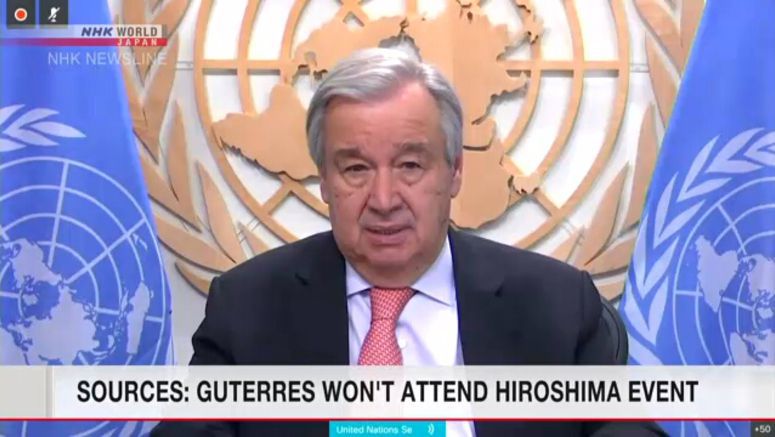 NHK has learned that UN Secretary-General Antonio Guterres has given up on his plan to attend a ceremony in Hiroshima City, western Japan, to mark the 1945 US atomic bombing of the city.
Sources say the decision is due to the coronavirus pandemic. Japan has banned entry by foreign nationals from the United States. Even if the UN chief were allowed to enter Japan, he would be asked to self-isolate for 14 days after arriving.
Guterres had hoped to attend the ceremony for the first time on August 6, the 75th anniversary of the bombing. He has shown willingness to increase momentum toward nuclear disarmament at a time when the initiative is losing steam globally.
A UN source said arrangements are now being made to send to the ceremony UN Under-Secretary-General and High Representative for Disarmament Affairs Nakamitsu Izumi. She is to attend the event following a 14-day self-quarantine.
Guterres told reporters on Thursday that whatever happens, he will send his strong message of solidarity with people in Hiroshima and Japan, and hinted at sending a video message.
Guterres's predecessor Ban Ki-moon was the first UN secretary-general to attend the event, in 2010. Guterres became the first UN chief to attend another atomic bombing anniversary ceremony in Nagasaki City, southwestern Japan, in 2018.