Hayabusa2 Team: Historic Achievement Will Be Made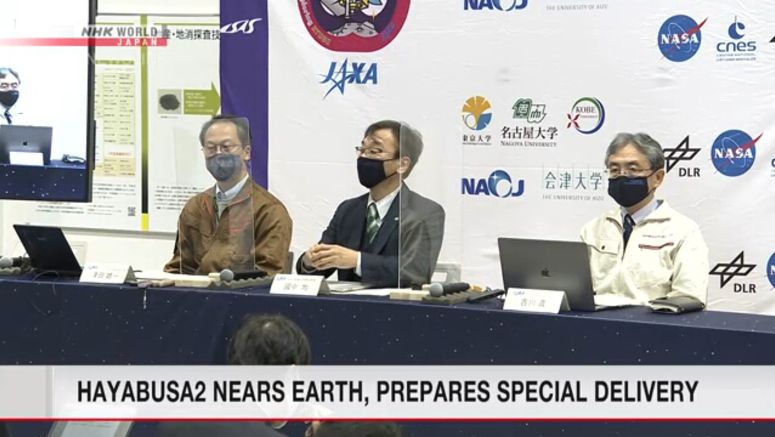 The team leader of Japan's asteroid explorer Hayabusa2 project says if Hayabusa2's capsule is successfully returned, it will be a historic achievement.
The Japan Aerospace Exploration Agency, or JAXA, held a final news conference ahead of the expected return of the capsule, which is believed to contain sand samples from the asteroid Ryugu.
The capsule is scheduled to be released from Hayabusa2 on Saturday. It will return to Earth on Sunday.
The project's manager Tsuda Yuichi said that all the operations have been going well so far. He expressed his gratitude to the people who have been supporting the project.
Tsuda said his team is committed to carefully carrying out the final series of operations. He said the team members are in good spirits and that they are hoping for good weather on Sunday.
Tsuda said if the capsule is returned, it will be a rare achievement in human history. He expressed hope that Hayabusa2 will open up a whole new world.
A supporting team in Australia, where the capsule is going to be collected, participated in the news conference via a video link. The staff there said they had completed a rehearsal and are expecting no problems with the weather.
If successful, it will be the second time Japanese scientists have collected samples from an asteroid. Hayabusa2's predecessor collected samples from another asteroid 10 years ago.