Heavy Snow Hits Japan, Strands Drivers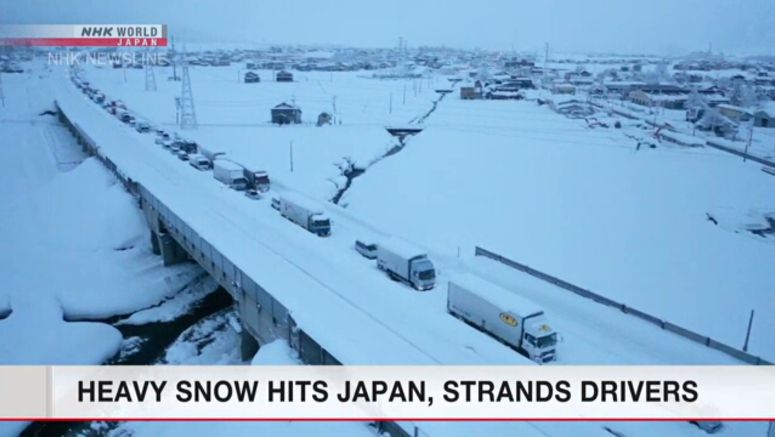 Heavy snowfall on Thursday stranded more than 1,000 vehicles on a Japanese expressway.
The line of cars and trucks on this highway connecting Tokyo to Niigata stretched for a full fifteen kilometers. Many had no access to food or water for hours.
Local emergency officials say they fielded calls from frustrated drivers --- some of whom reported falling ill.
NHK reached one driver who'd been stuck in his vehicle since midnight.
He said, "The snow was extremely heavy. As time went by, the cars got buried. I was really scared. I've eaten all of my food and drinks. Now, to drink water, I have to melt snow I collect in a plastic bottle."
The Niigata prefectural government is calling on people to stay in their vehicles... as Ground Self-Defense Force troops try to free them.
Prime Minister Suga Yoshihide met with ministers to discuss the heavy snowfall which has also knocked out power for many Sea of Japan communities.
He's asking local officials and agencies to work together to get services back up and running.
Niigata and neighboring Gunma prefectures have already seen seven times more snow than what's normal for this time of year. It's left residents stunned.
The wintry weather won't let up ahead of the weekend --- with another massive dumping set to hit a large part of the region late Friday or Saturday.