Hibakusha Group Urges Govt. To Join Un Nuclear Ban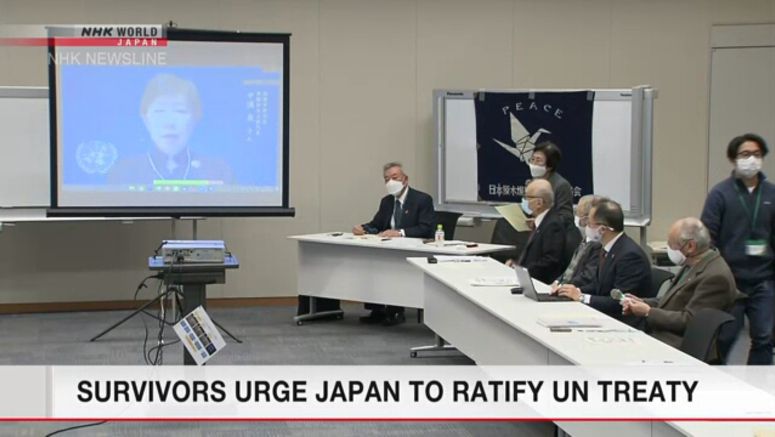 Survivors of the 1945 US atomic bombings of Japan have urged the country's government to join a UN nuclear ban treaty that took effect on Friday.
The survivors, known as hibakusha, spoke about the UN Treaty on the Prohibition of Nuclear Weapons at a gathering in Tokyo on Friday. They began with a silent prayer to all the victims who died from the bombings.
Co-Chairperson of the Japan Confederation of A- and H-Bomb Sufferers Organizations Tanaka Terumi said the day nuclear weapons became illegal will go down in the history of humankind.
The treaty went into force without the participation of any of the nuclear powers or Japan, the only country that has experienced atomic bombings.
Eighty-eight-year-old Tanaka said he wants to tell the hibakusha who have died that their movement is halfway to achieving the abolition of nuclear weapons.
In a video message, UN Under-Secretary-General and High Representative for Disarmament Affairs Nakamitsu Izumi said the treaty will become a symbol of renewed resolve to prevent another tragedy like Hiroshima and Nagasaki from ever happening.
The organization called on Japan's government to join the treaty. It also called on political parties to deliberate the issue in the Diet and work toward the country's participation.
A senior foreign ministry official at the gathering said the government does not plan to sign the treaty, given Japan's position. But the official went on to say the country intends to actively contribute to international discussions on advancing nuclear disarmament.
The organization says it started collecting signatures from across the country on Friday to urge the government to join the treaty.