Hiroshima Authorities Appeal 'black Rain' Ruling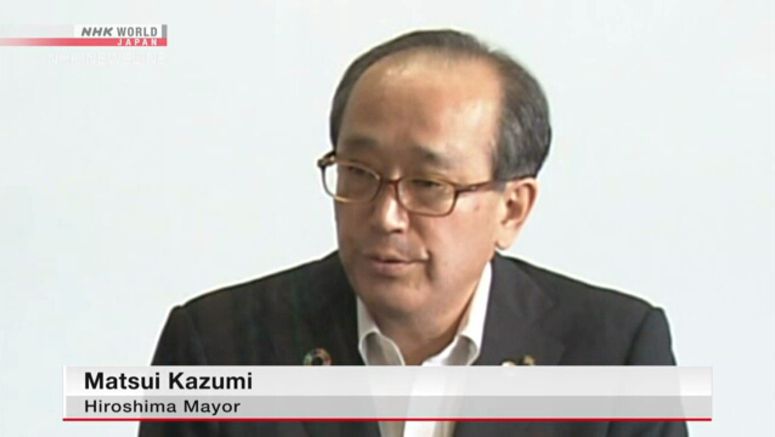 The prefecture and the city of Hiroshima have appealed a district court ruling that legally recognizes people exposed to radioactive rain immediately after the 1945 atomic bombing as "hibakusha," or survivors of the bombing.
The local governments filed their appeal with the Hiroshima High Court on Wednesday, the deadline for appealing against last month's Hiroshima District Court ruling.
The move came after their consultation with the central government, which urged the city and the prefecture to appeal. It claimed that the ruling lacks a sufficient scientific basis.
Hiroshima Mayor Matsui Kazumi told reporters that his government had no choice but to appeal at the request of the central government.
A total of 84 plaintiffs, many of them elderly residents and their bereaved families, filed a lawsuit in 2015 against the local governments.
They claimed to have suffered health problems from exposure to what is known as "black rain." Their petition demanded that they receive certificates recognizing them as atomic bomb survivors. The survivors are eligible for healthcare benefits.
In the area where the "black rain" fell heavily, there is a system that allows people to receive relief equivalent to atomic bomb survivors. But the plaintiffs were outside that area and were excluded from the benefits.
The local governments were originally reluctant to appeal, for they themselves have urged the central government to expand the scope of people who are eligible for financial support over health problems linked to radiation exposure.
The city and prefectural governments said the central government has expressed intention to review the current situation.
Health Minister Kato Katsunobu said that Hiroshima officials urged him to reconsider an expansion of the black rain areas. He said the government will look into the situation.