Homecoming Of Old Porcelain From Austrian Castle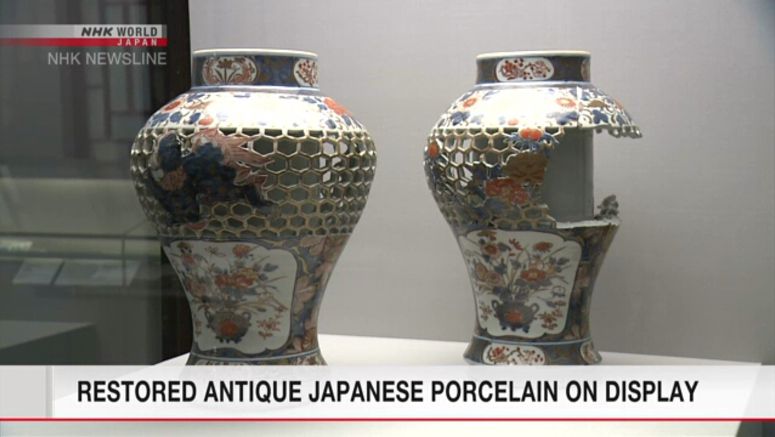 A collection of antique Japanese porcelain kept at an Austrian castle will be exhibited in Tokyo from Tuesday after undergoing restoration.
Works of Koimari, or Old-Imari, collected by the owner of Loosdorf Castle in eastern Austria some 300 years ago had been preserved at the castle. But most of them were broken to pieces in the confusion surrounding the end of World War Two.
A project to restore the works made in the Edo period in the northern Kyushu region was supported by the Austrian Embassy in Japan to celebrate 150 years' friendship between Austria and Japan.
Some of the works were mended using Japanese techniques.
Among about 150 articles on display is a large plate measuring some 45 centimeters decorated in motifs such as pine trees, plum blossoms and cranes and adorned with gold foil.
Project officials say that some of the vases from China and Europe were found to be imitations of the Old-Imari during the restoration process. The replicas are a testimony to the immense popularity of Japanese porcelain at that time.
The project chief, Hoshina Machiko, says cultural assets help people understand the history behind them. She hopes that visitors will view the shards as a symbol of peace.
"The Tragedy of Loosdorf Castle" exhibition will run till January 24 at Okura Museum of Art in Tokyo.