Hospital Chief Apologizes For Internal Outbreak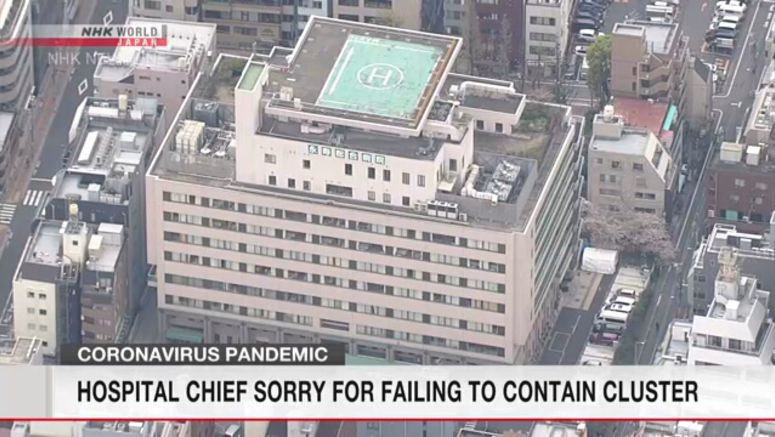 The head of a Tokyo hospital where an outbreak of the coronavirus killed dozens of patients has apologized for insufficient measures to deal with the infectious disease.
Eiju General Hospital in Tokyo confirmed 214 coronavirus cases since March, including 109 inpatients, 83 doctors and other staff members and 22 people who have had close contact with those infected. Forty-three inpatients died.
Hospital director Yuasa Yuji apologized at the Japan National Press Club on Wednesday for failing to contain the spread of infection, resulting in so many deaths.
Yuasa said that by early April, the unexpected extensive spread of the virus became evident every time a test result came out.
He explained that elderly patients with blood disorders or advanced-stage cancer could not be saved, even though they were given drugs such as Avigan and Futhan from an early stage.
Yuasa said many patients had fever and pneumonia to begin with, and the staff were slow to suspect coronavirus infection because they were not fully aware that asymptomatic patients can unwittingly spread the virus. He also admitted to a lack of basic protection such as face masks and disinfectant.
The hospital is currently infection-free and has resumed seeing patients. All patients with the slightest sign of infection are tested. The staff are told to use disinfectant and are banned from taking a break in groups without wearing a face mask.
Yuasa noted that some staff members have been evicted from their apartments and their children have been banned from school or kindergarten.
He tearfully admitted he was at a loss for words to say to staff members who went to the sick ward every morning despite their fear of infection. He said he was sorry for having put such a burden on them.
Yuasa pledged to thoroughly implement basic measures to prevent infection.