Huge Volume Of Plastic Waste Found On Deep Seabed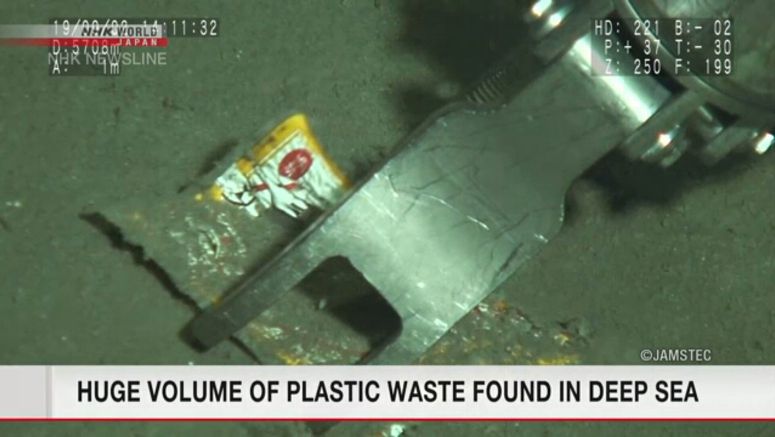 Japanese researchers have found a huge amount of plastic waste deep on the seabed off the Boso Peninsula coast, east of Tokyo.
Researchers at the Japan Agency for Marine-Earth Science and Technology, or JAMSTEC, conducted a study on marine pollution caused by plastic waste in August and September, 2019.
Using a deep-sea submersible and other devices, the researchers studied seabed debris at five locations with different depth and distance from the coast.
Plastic packaging for a hamburger with a 1984 production date was collected from the seabed about 5,700 meters deep and 520 kilometers off the Boso Peninsula. A toothpaste tube was also found in the same area.
At a deep-sea spot 480 kilometers off the peninsula, the researchers found a large number of plastic items, including single-use plastic bags. Based on the number of items they could visually confirm, they estimated a total of about 7,000 plastic items per one square kilometer.
They also examined a shallower site about 1,400 meters deep 20 kilometers off the Sagami Bay coast, south of Tokyo. There the researchers found an estimated 1,950 plastic items per one square kilometer, much fewer than in deeper waters.
JAMSTEC scientist Nakajima Ryota said previous studies indicated they would find less plastic waste on deeper seafloors. However, his team found a "hotspot" for plastic garbage on the deep seabed 500 kilometers off the coast.
Nakajima said that the team believes drifting plastic items collect algae as they are carried by ocean currents and sink.
He said it's almost impossible to recover plastics from the deep sea and stressed the need for thorough measures to stop ocean pollution.