Inter - Prefecture Trips Down During Spring Holidays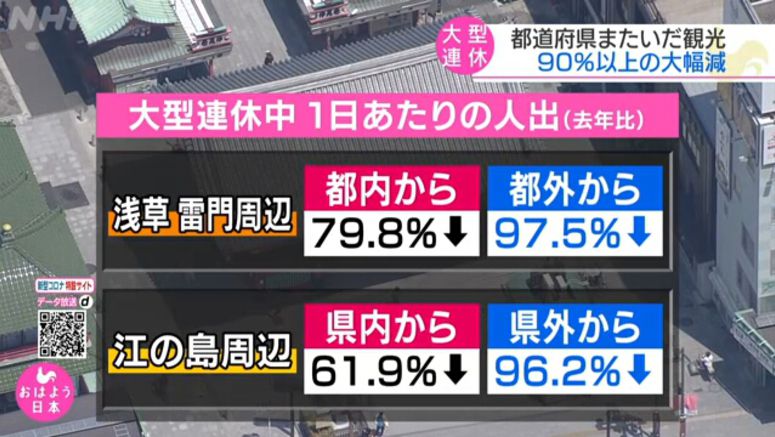 A major Japanese cell-phone carrier has found that trips between prefectures during the holiday period from the end of April to early May were significantly down from last year.
KDDI examined data from users' smartphones for the spring holiday period that ended on May 6. During this period, people were urged to stay home amid concerns over the coronavirus outbreak.
It looked at the number of people who visited tourist spots outside of their home prefectures, versus the number of tourists who moved within their prefectures.
Inter-prefecture trips to Tokyo's iconic Kaminarimon Gate in the Asakusa district and surrounding areas fell by over 97 percent per day compared with last year. Trips within Tokyo were down by nearly 80 percent.
Inter-prefecture tourist visits to the seaside Enoshima area in Kanagawa Prefecture plunged by over 96 percent, and intra-prefecture trips to the area were down by nearly 62 percent.
Inter-prefecture trips to major tourist spots in Hokkaido, Ishikawa, Kyoto and Hyogo prefectures also plummeted by more than 95 percent each.