Japan Expands Quasi - State Of Emergency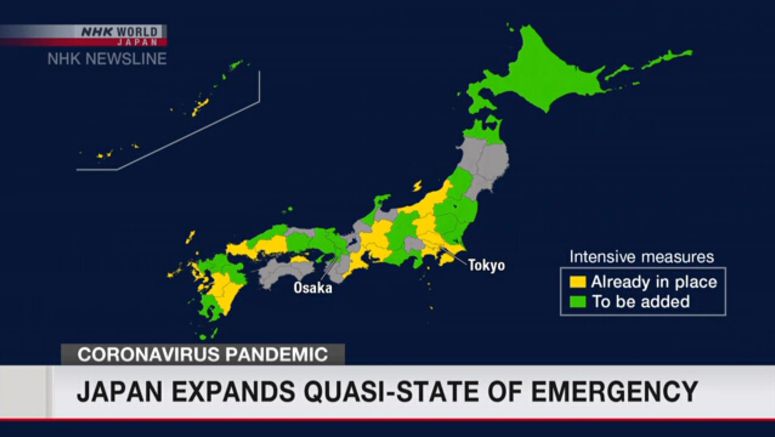 Japan's government is expanding a quasi-state of emergency aimed at containing the coronavirus. Infections are surging nationwide at an unprecedented pace, largely fueled by the Omicron variant.
Officials confirmed more than 60,000 new cases on Tuesday. The figure is a record high. A total of 444 people are in serious condition, up five from the day before.
More than half of Japan's 47 prefectures reported record case counts, including Tokyo.
The quasi-state of emergency will cover 18 more prefectures including Osaka, Kyoto and Hokkaido starting Thursday. It will remain in place until February 20.
Officials say the measure is aimed at ensuring the medical system can cope.
The government has also extended the quasi-state of emergency beyond the initially scheduled end date of January 31 in Okinawa, Yamaguchi and Hiroshima prefectures.
The measure allows local governments to impose targeted restrictions, including asking bars and restaurants to take alcohol off the menu, close early or limit customers.
The government is also shifting some of its protocols for diagnosing COVID-19 away from the nation's increasingly burdened doctors.
People at low risk of becoming seriously ill will be allowed to check if they are infected by themselves. They would then need to report to their municipality if they test positive.
And doctors will be able to diagnose close contacts of confirmed cases without conducting a test.