Japan Holds Event To Mark Takeshima Day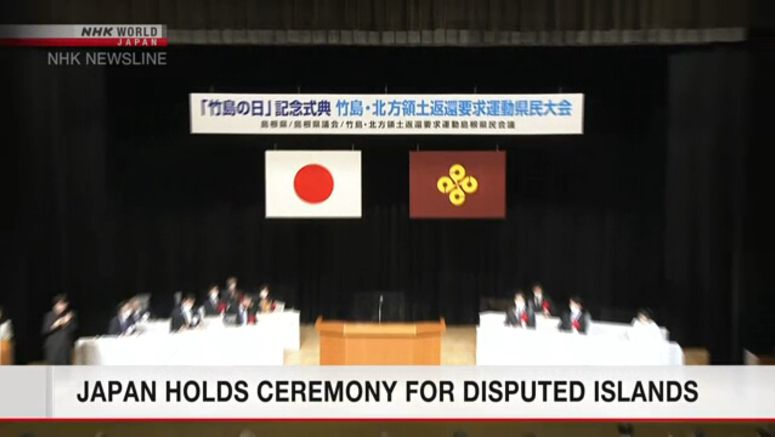 The governor of Shimane Prefecture in western Japan has urged the central government to resolve a territorial dispute with South Korea over the Takeshima Islands.
Maruyama Tatsuya spoke at a ceremony in Matsue City on Monday to mark the incorporation of the islands into the prefecture more than a century ago.
South Korea controls the islands. Japan claims them. The Japanese government maintains the islands are an inherent part of Japan's territory. It says South Korea is illegally occupying them.
In 2005, Shimane Prefecture designated the date as Takeshima Day, and has held a commemorative event every year since.
About 200 people attended this year's ceremony. The number of participants was limited to about half that of previous years due to the coronavirus pandemic.
Governor Maruyama said the islands are an inherent part of Japan's territory, and called strongly on the central government to solve the issue through diplomatic negotiations with South Korea.
During the ceremony, Parliamentary Vice-Minister of the Cabinet Office in charge of territorial issues, Wada Yoshiaki, called the occupation of the islands by South Korea illegal and totally unacceptable. He added that the government will work tenaciously to convey Japan's stance on the islands.
The South Korean foreign ministry on Monday released a statement that strongly criticizes Japan for holding the ceremony and demands the immediate abolition of the annual event.
The Japanese Embassy in Seoul says its senior diplomat Soma Hirohisa heard a protest lodged by Kim Jung-han, the foreign ministry's director general for Asian Pacific affairs.
Soma reportedly responded by saying that Japan cannot accept the protest.