Japan Marks 75 Years Since End Of Wwii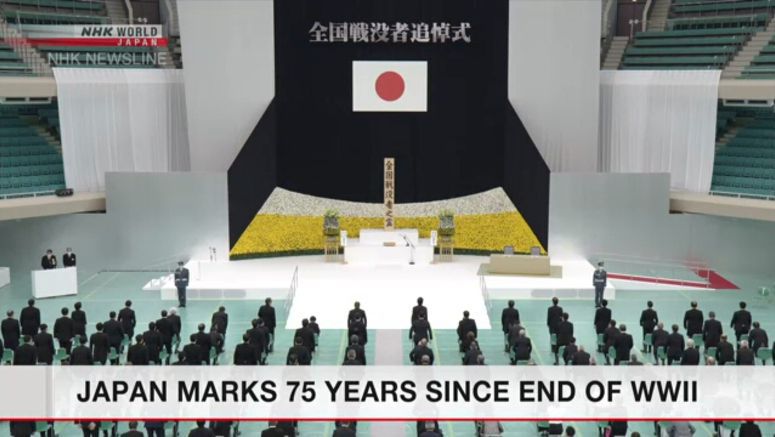 People in Japan are commemorating the end of World War Two -- 75 years on. A government-organized ceremony was held in Tokyo on Saturday to honor those who died in the war.
About 550 people attended the event held every August 15th. The number this year was the smallest ever because of the coronavirus. Attendance was less than one-tenth of last year's.
At the stroke of noon, the participants, along with people across the nation, observed a moment of silence to remember approximately 3.1 million people who died in the war.
Emperor Naruhito and Empress Masako took part in the memorial event. While the Imperial couple have been involved in events within the palace, this was their first time in public since the outbreak began in Japan.
Emperor Naruhito said, "Looking back on the long period of post-war peace, reflecting on our past and bearing in mind the feelings of deep remorse, I earnestly hope that the ravages of war will never again be repeated. I now pay my heartfelt tribute to all those who lost their lives in the war, both on the battlefields and elsewhere, together with all of our people and pray for world peace and for the continuing development of our country."
Prime Minister Abe Shinzo reiterated Japan's commitment to making the world a better place.
Abe said, "Under the banner of a proactive contribution to peace, we will join forces with the international community and play a greater role in solving the various challenges facing the world. We shall overcome the ongoing coronavirus pandemic and carve out the future of the nation for the sake of the generations alive now and the generations of tomorrow."
As the anniversaries of the atomic bombings on Hiroshima and Nagasaki earlier this month also showcased, the people who experienced the war firsthand are growing older. About 80 percent of the relatives of the war dead who attended the memorial event are 70 or older.
To symbolize the passing on of memories to a new generation, a 12-year-old student whose great-grandfather died in the war also attended.
Events will be held nationwide throughout the day to remember the war dead and pray for peace.