Japan Marks Tragic 3/11 Anniversary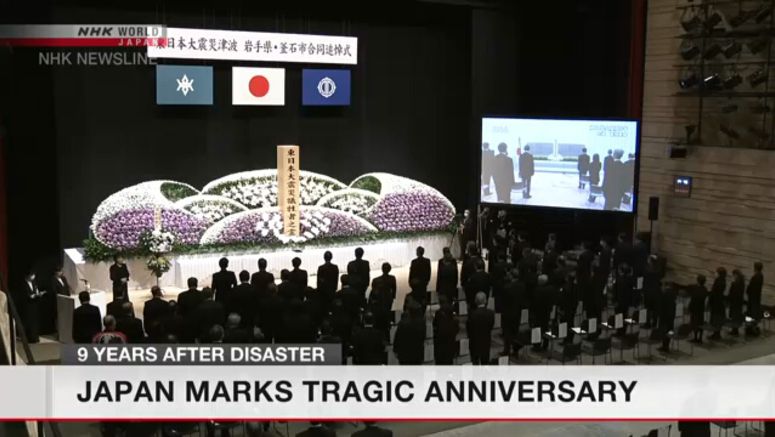 At 2:46 p.m., a siren sounded to mark the exact time the quake struck ... as people across Japan paused to observe a moment of silence for the thousands lives lost nine years after a major earthquake, tsunami and nuclear accident struck the country's northeast.
Prime Minister Shinzo Abe and his Cabinet members did the same in Tokyo.
The disaster left 18,428 people dead or missing ... including the Okubo family's only daughter, Maki.
The 27-year-old was swept away by the tsunami.
Last summer, part of her remains were finally found off the coast of Miyagi prefecture.
Maki's father Mitsuo Okubo says, " This year is different. We can feel my daughter close to us."
Her mother Keiko says, "She finally came back to us...but our sorrow will never be erased."
Another 3,739 people have died in the years that followed the magnitude-9 earthquake. It generated a tsunami more than ten meters tall and triggered what's considered the world's worst nuclear accident since Chernobyl.
3.11 is synonymous with the Fukushima Daiichi nuclear power plant, which suffered a triple meltdown.
As a result, tens of thousands were forced from their homes because of the radiation. Almost a decade later, several municipalities remain blocked off...leaving nearly 48,000 evacuees still waiting to go home.
Life has returned to some communities.
An evacuation order was partially lifted this week for a small area of a town near the crippled plant.
A male resident says, " Only three out of 60 families in my neighborhood have returned and the people are all over 70 years old. I wish everyone would come back."
But how long that takes is uncertain. The recovery effort is still far from over.
One of the biggest challenges is what to do with the more than 1 million tons of contaminated water stored at Fukushima Daiichi. The water is used to cool the molten fuel inside the damaged reactors. About 170 tons is produced every day and the government hasn't decided how to dispose of it.