Japan On Alert For More Torrential Rain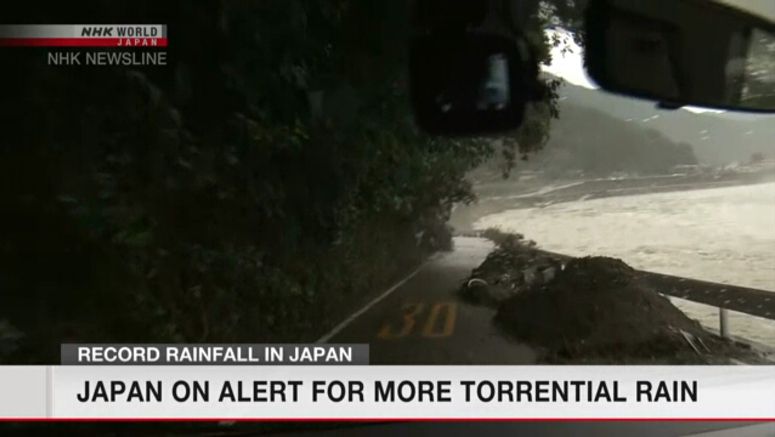 Japanese weather officials are warning of a wet and potentially dangerous weekend ahead for many parts of the country. Torrential downpours have caused widespread flooding and landslides. More than 60 people are dead, and over a dozen are missing.
The southwestern island of Kyushu has borne the brunt of the damage.
A bridge on the Kuma River was washed away. The road on the riverbank collapsed. Mud and parts of uprooted trees have made it inside buildings, some up to the second floor.
A man said his 67-year-old father was found dead in his flooded home. He said he regrets fighting with his father a lot, and wishes he had taken his child to visit more often.
Flooding has turned fields and greenhouses into swamps.
One farmer said his 60 greenhouses were affected, and that the timing could not have been worse. He said, "It was just before the harvest. The whole area around here was completely destroyed. The amount of damage may be around 93,000 dollars."
Aside from the economic damage, the extreme rain is presenting a new threat in the age of the coronavirus.
People in evacuation shelters are taking precautions to keep the virus at bay.
The destruction also hit areas outside Kyushu. In Kyoto, a mudslide ploughed into three cars near an interchange. Two drivers suffered minor injuries.
In Gifu, more than 100 houses were inundated when the Hida River flooded. Mud and rocks hit train tracks, roads, and houses. Residents are struggling to clean up on their own since heavy machinery can't be brought in to some areas. One of them said he doesn't know where to begin.
More than 4,700 houses were flooded across 22 prefectures. But officials say the full extent of the damage is still not clear.