Japan Reports More Than 2,000 Virus Cases On Wed.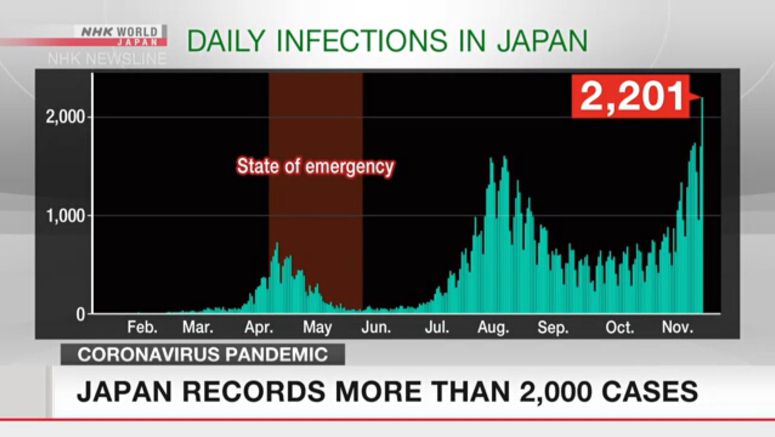 Wednesday marked another daily coronavirus record in Japan. Officials confirmed more than 2,200 new cases -- a continuation of a troubling upward trend.
Just last month, fewer than 1,000 cases were reported each day.
But the figure rose during the first two weeks of this month -- prompting concerns about a third wave.
Now the daily tally has risen above 2,000 - for the first time -- surpassing a record set on Saturday.
Of those, nearly 500 were confirmed in the capital. The Tokyo Metropolitan Government plans to raise the coronavirus alert to its highest level on Thursday.
The northern prefecture of Hokkaido has also seen numbers soar, reporting around 200 daily cases over the past ten days.
Residents are being urged to avoid traveling to or from the prefectural capital of Sapporo. Officials are also asking Sapporo residents to avoid non-essential outings.
Experts are concerned about the spread of cluster infections outside of entertainment districts and workplaces.
They say grouped infections are now being identified in rural areas, medical institutions, and elderly care homes.
Toho University Professor Tateda Kazuhiro said, "In the second wave, the targets were clear, so officials could respond with more ease. Now that cluster infections are diversifying, it's becoming more difficult to take action."
The recent spike comes as the Japanese government tries to boost the economy through campaigns that offer subsidies on dining, lodging and transportation.
It has no immediate plans to halt its campaign. But it's asking local governments to consider placing restrictions on restaurant coupons -- to limit group dining.
The head of the central government's expert panel is calling for tougher preventive measures. Omi Shigeru said, "We are on the verge of a situation where we will be forced to more strictly limit economic and social activities. To avoid that, we need to raise our guard once again."
Experts warn that the virus could be more easily transmitted in the dry and cold winter weather, especially if people stay in closed, heated rooms.