Japan Reports Record Cases 2 Days In A Row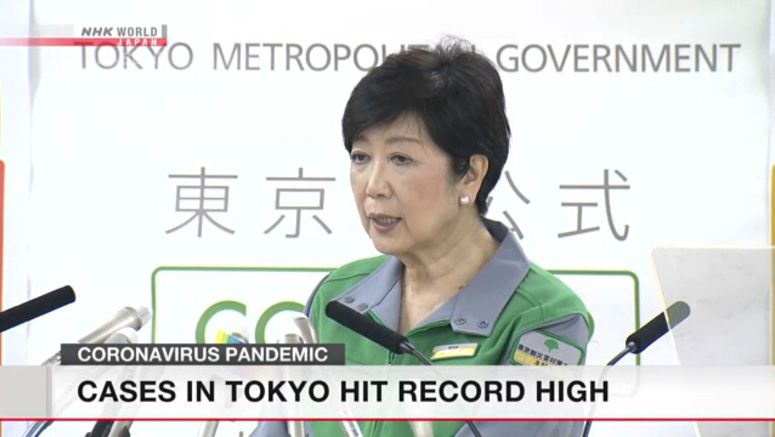 The coronavirus continues to spread across Japan. About 1,300 cases were reported on Thursday, setting a new daily record. Tokyo also hit another record with 367 newly confirmed infections.
Governor Koike Yuriko is calling on residents to refrain from going out and drinking in groups.
She said, "We are facing a critical situation and are on the verge of an explosive increase of infections. We need to take measures to curb it."
The Tokyo government is asking restaurants and karaoke bars that serve alcohol to shorten their hours for most of next month. Establishments that only operate between 5 a.m. and 10 p.m. will be eligible for subsidies.
But some bar operators say the amount -- about 2,000 dollars -- isn't enough.
Kitamura Ryohei, a bar manager, said, "Rent is extremely high in Tokyo. I don't think the subsidy is enough to cover losses any establishment incurs."
Tokyo continues to be the biggest hot spot in Japan. The daily figure in the capital has been above 200 nine of the past ten days.
The Tokyo Medical Association says the number of people asking to be tested has exceeded capacity at some testing sites and is causing delays.
The association is planning to ask more clinics in Tokyo to conduct PCR tests.
Cases are also rising in other prefectures. Osaka registered 190 infections, after recording more than 220 cases on Wednesday.
The prefectures of Okinawa and Fukuoka registered new daily records on Thursday.
It's the second day in a row more than 1,200 cases have been reported across Japan. In total, more than 35,000 cases have been confirmed in the country. Over 1,000 people have died.