Japan Reports Record Number Of New Daily Cases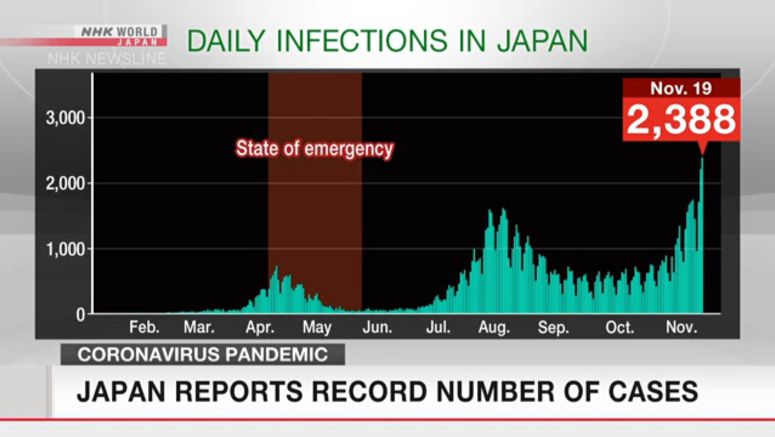 Japanese officials confirmed more than 2,300 cases of coronavirus infection across the country on Thursday, a new daily record.
The daily count first crossed the 2,000 threshold on Wednesday. The rising numbers have come with record tallies in several prefectures.
Tokyo confirmed 534 new cases on Thursday, the first time the figure has topped 500.
Experts say the virus is spreading rapidly in the capital, with the latest seven-day average at about 326 daily cases, up from 244 the week before.
The Tokyo Metropolitan Government raised its alert level to the highest of four for the first time since September.
Businesses are not being asked to reduce operating hours. But Tokyo Governor Koike Yuriko is calling on residents to use caution when eating in groups as people begin planning year-end get-togethers.
Koike said: " We advise people with pre-existing conditions not to dine in a group. Anyone who lives with family members who are at a higher risk of falling seriously ill are also advised to refrain from such outings."
The prefectures of Osaka, Aichi, Hokkaido and others reported record numbers of daily cases on Thursday.
The ongoing spike has prompted more people to get tested. Taguchi Masumi, a doctor at a clinic in Tokyo, says people with minor cold-like symptoms are asking for PCR tests just to be sure. She says she has noticed a trend among those who test positive.
Taguchi said: "Most often, they say they don't know when or how they contracted the virus. Most of those who do know say they were infected when eating out."
The recent surge comes as residents take advantage of government subsidies for dining, lodging and transportation. Some are concerned that the "Go To Travel" and "Go To Eat" campaigns could be raising the risks.
But leaders of the governing coalition say such programs to support the economy should continue with thorough anti-virus measures being taken.