Japan Sets Another Daily Record Of Infections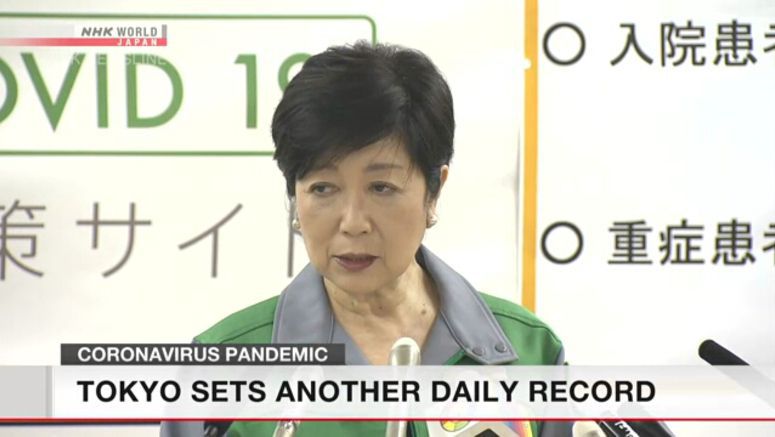 Japan has hit a new daily record of coronavirus infections. Nearly 1,500 cases were confirmed on Friday, and the figure is expected to rise further by the end of the day.
Tokyo also saw a record high number of cases, 463. That brings the total number of infections in the capital to nearly 12,700 with more than half coming in July.
Tokyo Governor Koike Yuriko said, "We're almost at the point where declaring a state of emergency just for Tokyo has to be considered. I want to ask everyone to take action so that we can avoid further measures."
The governor is asking residents to refrain from traveling and taking part in events and gatherings this summer.
The coronavirus continues to spread across Japan. More than 1,200 cases have been reported in each of the past three days. Experts warn demand for ventilators and ICU treatment may rise as serious cases have a tendency to follow the overall trend.
Ministers and experts met on Friday to discuss anti-virus measures. They created a new way to classify situations across the country.
The head of the expert panel said Tokyo and Osaka are currently at what they describe as "gradual increase", while other areas are being labeled "sporadic infections".
Omi Shigeru said, "If a rapid increase occurs, it's too late. So we need to find early signs so the government can take stronger measures."
The minister in charge of the government's coronavirus response says he asked the panel to suggest ways to monitor the situation.
Economic Revitalization Minister Nishimura Yasutoshi said, "We want them to discuss how to quantitatively evaluate the strain on medical systems, as well as the number of serious cases, elderly patients, and new infections."
In total, more than 37,000 people have tested positive for the coronavirus in Japan. Over 1,000 have died.