Japan To Declare Emergency For 7 Prefectures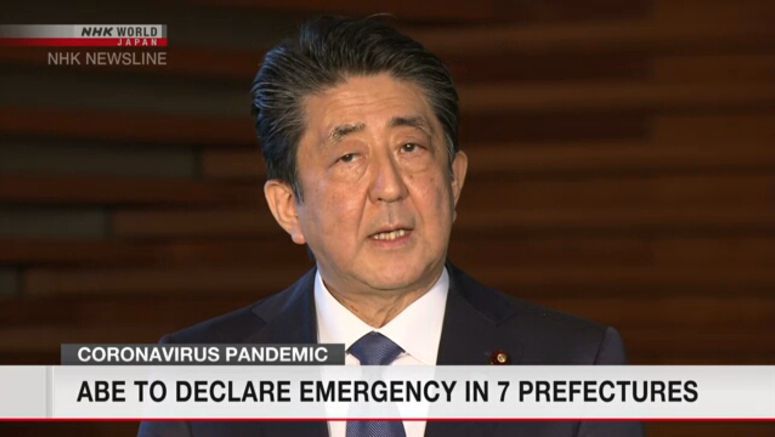 Prime Minister Abe Shinzo says he will declare a state of emergency due to the coronavirus outbreak for Tokyo and six other prefectures as early as Tuesday.
The declaration will cover Tokyo, Kanagawa, Saitama, Chiba, Osaka, Hyogo and Fukuoka. It is expected to be in place for about a month.
Abe told reporters on Monday that the head of an advisory panel, Omi Shigeru, recommended that he prepare to issue an emergency declaration.
Omi reportedly cited the surging number of patients in Tokyo, Osaka and other major cities and the risk that healthcare services will be overwhelmed.
Abe said the declaration will aim to help minimize person-to-person contact and to improve the healthcare environment.
He stressed that lockdowns will not be imposed as happened in some foreign cities, suggesting that public transportation, supermarkets and other essential businesses in Japan will continue operations.
Abe added that Japan's response to the outbreak remains unchanged, namely to ask people to avoid closed and crowded places as well as close contact with others, while maintaining economic and social activities. He called on residents of the seven prefectures to respond calmly.
The declaration will give the governors of the prefectures the power to request that residents refrain from non-essential outings.
The governors will also be able to ask residents to cooperate with measures to prevent the further spread of the virus.
The governors can request or order school closures and restrictions on the operations of department stores, cinemas and other places where many people gather.
They will also be given authority to use land and buildings without the consent of their owners to build temporary medical facilities.
In an emergency, the governors can request or order logistics companies to deliver medical supplies and equipment. They can also expropriate medical supplies if necessary.