Japan To Declare State Of Emergency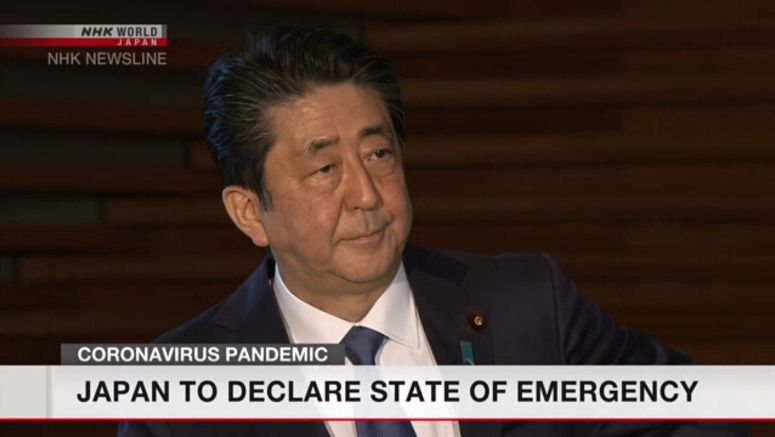 An advisory panel of experts are meeting with Japanese government ministers ahead of Prime Minister Abe Shinzo's expected declaration of a state of emergency. The measure comes as the capital and other major Japanese cities have seen a rapid spread of the coronavirus and an increase in the number of cases with untraceable infection routes.
Government ministers are listening to the experts' opinion before the declaration is issued later on Tuesday.
Fears are rising that the country's healthcare system could be overwhelmed.
Nishimura Yasutoshi, the minister in charge of coronavirus measures, opened the panel and explained why the government decided to shift its policy.
He said, "The number of days required to double the cumulative number of infected people is now less than 7 days. And the local medical system is in short supply. For these reasons, we received opinions that preparations should be made to declare a state of emergency."
The declaration will cover Tokyo, Kanagawa, Saitama, Chiba, Osaka, Hyogo and Fukuoka. It is expected to be in place for about a month.
Prime Minister Abe is expected to answer questions about the state of emergency declaration from members of both the Lower and Upper chambers of the Diet on Tuesday afternoon.
Abe will hold a news conference Tuesday evening to explain how people's lives will change and why the country needs stricter measures.
Governors in designated areas will be able to enact various independent measures on their own.
Tokyo Governor Koike Yuriko urged people to stay at home. She said, "I would like to end this fight in the shortest possible time. I'm asking for cooperation from all citizens."
Koike said people will be allowed to go out to buy food and medicine, as well as visit hospitals when the declaration is in place. She also said public transportation will keep running.
Koike said she will categorize businesses into three groups: ones to close, ones asked to close, and ones that are essential.
She also said her government is considering financial support.