Japan, Us Leaders Meet For Talks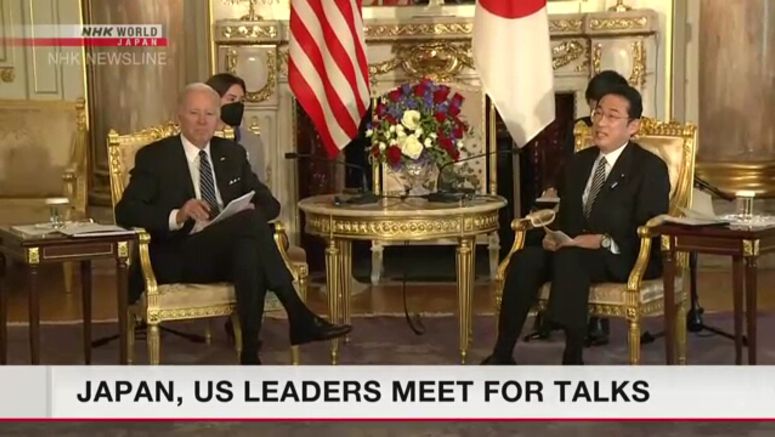 The leaders of Japan and the United States are sitting down for an official meeting in Tokyo.
Japan's Prime Minister Kishida Fumio said at the meeting, "I sincerely welcome your visit to Japan. It shows that the United States will continue to strengthen its involvement in the Indo-Pacific region under any circumstances."
Kishida and President Joe Biden spoke briefly to reporters shortly before noon. They are scheduled to hold a joint press conference later on Monday.
Both leaders are expected to stress the US and Japan's close alliance, and commitment to peace and stability in the Indo-Pacific.
Biden said, "Prime Minister, thank you for the welcome. The way you love me. It's been the relation with as far as creating with again and to continue our discussions. And how Japan and the United States can harness our alliance to the positive force not only in the region in the world."
They are expected to discuss responses to China's growing assertiveness in the region, as well as Russia's invasion of Ukraine, and North Korea's weapons tests.
Biden will also speak about the US military's "expanded deterrence" capabilities for Japan including the potential use of both conventional and nuclear weapons. Kishida will also present the Japanese government's plans to increase defense spending.
The ruling Liberal Democratic Party proposes that the country should possess "counterstrike capability" to deal with ballistic missile threats.
Speaking this morning, Biden says the US and Japan will face the challenges of today, and the future, together.