Japanese Cope With Extended Emergency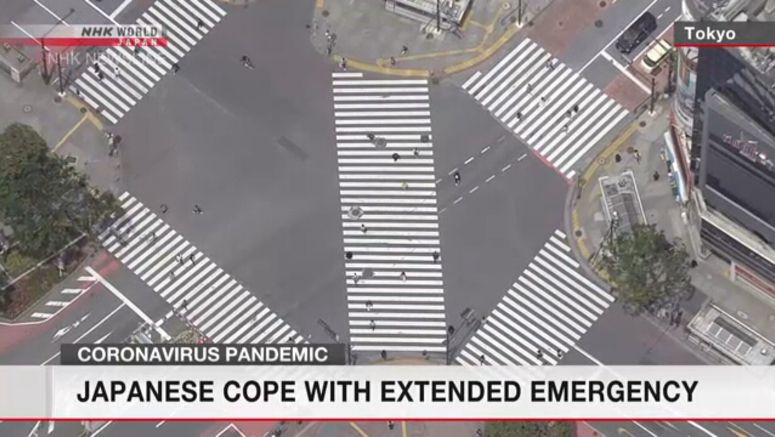 In Japan, people are being advised to stay home this weekend after the government extended a nationwide state of emergency until the end of the month.
In Tokyo, 36 more people were confirmed to be infected with the coronavirus on Saturday. It was the seventh straight day the number of new cases in the capital was below 100.
Tokyo and Osaka are among 13 prefectures still designated as "special alert" regions. Residents are urged to refrain from non-essential outings.
But some prefectures have eased or lifted requests for companies to suspend operations. That's prompting some establishments to reopen.
In the northeastern city of Morioka, outdoor stalls lined the downtown area. But the market was far smaller than usual with only one-tenth the normal number of vendors.
In the western prefecture of Tokushima, people headed for the prefectural library. It was just one of the many facilities that have reopened. Quite a few children made the most of it.
Economic Revitalization Minister Nishimura Yasutoshi, who is also in charge of anti-coronavirus measures, says more people are going out following the end of the spring holiday period.
Nishimura said, "If people become complacent, the number of coronavirus cases will start rising around the end of the month. So, please everyone -- especially in the 13 prefectures still with special-alert status -- continue staying home to help contain the outbreak."
Japan now has over 15,000 confirmed infections. The death toll is over 630, including 13 from the cruise ship that was quarantined in Yokohama.