Japan's Daily Case Count Tops 20,000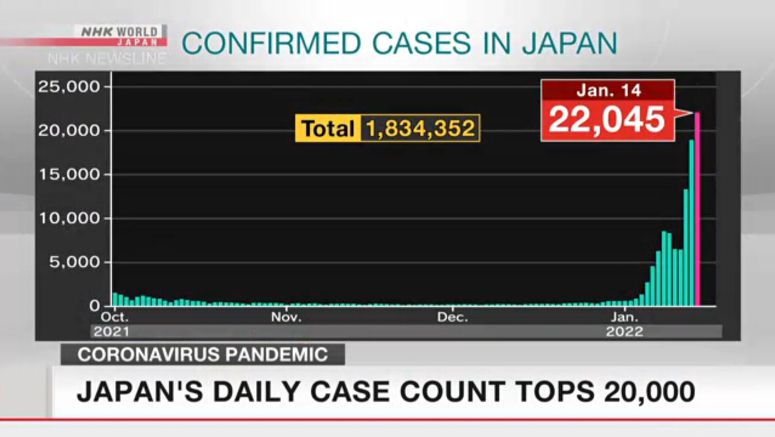 More than 20,000 new coronavirus infections were confirmed across Japan on Friday. The surge in cases, which is attributed to the Omicron variant, is spurring authorities to consider how to maintain social and economic activity.
It's the first time in more than four months that the daily tally has exceeded 20,000. The record daily total of almost 26,000 was set in August. A total of 221 people across Japan are in serious condition, 96 more than Thursday.
Tokyo reported more than 4,000 new cases. The figure has increased by about 1,000 for three days in a row.
Okinawa has also been hit hard. Officials confirmed nearly 1,600 cases on Friday.
The rapid spread has affected many medical and essential workers in the southern prefecture.
One of the personnel at this fire station tested positive and six of his colleagues were judged to be close contacts and have to isolate. To cover their absence, the other firefighters now have to work 24 hours every other day, instead of once every three days.
The government decided on Friday to shorten the isolation period for people who have been in close contact with an infected person.
Until now they have been required to isolate for 14 days. That's been cut to 10 days, and even less for essential workers.
US pharmaceutical firm Pfizer on Friday applied to Japanese authorities for approval of its Paxlovid antiviral COVID-19 tablets.
Pfizer says clinical trials indicate that Paxlovid reduces the risk of hospitalization or death by 89 percent when given to high-risk coronavirus patients within three days of symptoms appearing. The company says lab tests also showed that the drug can suppress the replication of Omicron.
If approved, Paxlovid would be the second oral drug available in the country. The Japanese government has an agreement to acquire enough to treat 2 million people.
Experts are warning an explosive spread of COVID-19 could overwhelm local healthcare systems. They are calling on people to get booster vaccinations as soon as they are available.